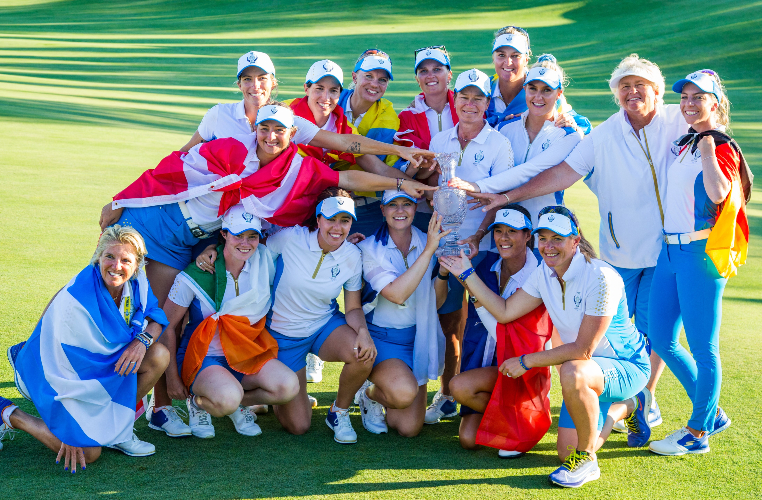 Solheim Cup 2021: Team Europe retain title after defeat Team USA 15-13 to claim historic victory on US soil.
Team Europe secured a second victory on US soil as they clinched a 15-13 win over Team USA in the 2021 Solheim Cup at Inverness Club in Toledo, Ohio.
Heading into the final day, Europe had a two-point lead over the counterparts and only needed five points to retain the coveted trophy.
It was Matilda Castren's point which ensured Europe would be heading back across the Atlantic with trophy in hand while Emily Kristine Pedersen, in the final match of the day, sealed the victory.
Catriona Matthew, Scotland, who becomes the first European captain to win the competition twice and to defend the trophy.
With Europe leading 14-11, the Americans claimed another two points to close the gap as Yealimi Noh and Jessica Korda defeated Mel Reid and Charley Hull.
In the last match, Pedersen was 3 up with three holes to play but her opponent Danielle Kang fought back to take it to 18.
Scottish Catriona Matthew makes history, First to defend successfully Solheim Cup title, Record, talks, quotes.
"I'm so proud of this team. At the end of the day, I don't hit any golf shots. It is really up to them. They are the ones that won it. They deserve all the credit, so thank you, team. You made me look good," explained Matthew.
"It was really nerve-wracking watching those final matches. When you're on the sidelines you can't do anything about it. Matilda made a fantastic up-and-down from kind of a plugged lie in the bunker and then holed about an 18-footer to win her match. That tide had been kind of turning towards the Americans, and I think it just turned it back towards us, and then Emily finished it off with her victory on the last hole."
It's just the second time in history that Team Europe has won the Cup on American soil—the only other time coming in 2013 at Colorado Golf Club.....