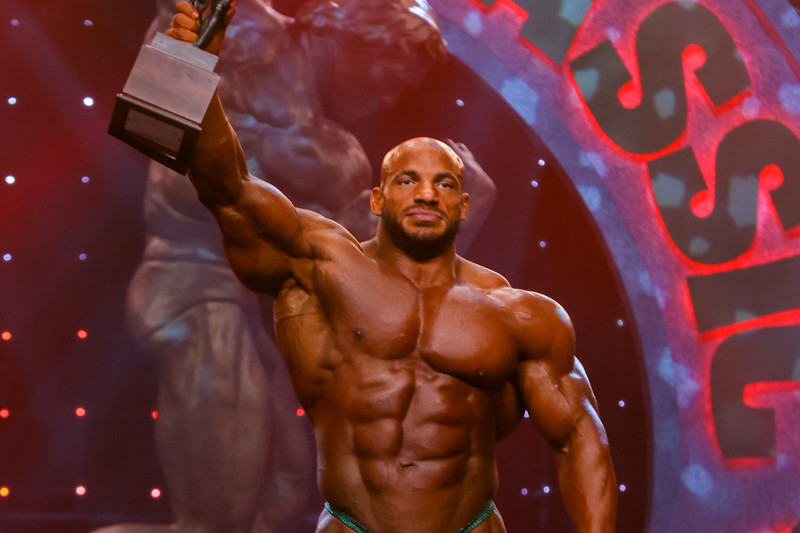 Mr. Olympia Past Winners: All-Time Champions List Since 1965.
The most winning titles record of
Mr. Olympia
hold by Ronnie Coleman and
Lee Haney is 8th time each.



Big Ramy is the 2021 Mr. Olympia Champion.


Mamdouh Elssbiay was able to beat out Brandon Curry and Hadi Choopan, among others, to be crowned the winner of the biggest competition in the sport of bodybuilding.🥇💪🔥


Elssbiay and Curry finished atop the competition in 2020 as well, with Big Ramy becoming the first back-to-back champion since Phil Heath won the competition an incredible seven straight times between 2011-17.



Mr. Olympia brief history & Stats-Facts.
Mr. Olympia is an award given to the Pro. men's bodybuilding competition winner.
It is International bodybuilding event held annually organized by the International Federation of Bodybuilding & Fitness (IFBB). Mr. Olympia title award was created by Joe Weider to enable the Mr. Universe to get more money.

The 1st competition was held in 1965 at Brooklyn NY, USA & won by Larry Scott w

ho won the first 2 titles.

The most record winning titles of

Mr. Olympia

is won by Ronnie Coleman and
Lee Haney is 8th time each. Arnold Schwarzenegger, & Phil Heath won the title 7th times,
Dorian Yates won the Mr. Olympia title 6th times.

Ms. Olympia is the female bodybuilding & fitness competition as compared to

Mr. Olympia for men's.

2021 Mr. Olympia winners Mamdouh Elssbiay takes home their share, the Prize money is $400,000

...

Rhoden became the oldest bodybuilder to win the Mr. Universe title 2018, at the age of 43 years, 5 months...
List of Ms. Olympia Winners: Past Champions history till 2018
.
All-Time Mr. Olympia Past Winners: Full List of Champions 1965-2021.
Here are the full list of all
Mr. Olympia
previous Winners-Champions results by Year since 1965 to 2021 so far...
Year Winners Venue
2022 Winner Las Vegas, NV
2021 Mamdouh Elssbiay Orlando, FL...
2020 Mamdouh Elssbiay Orlando, FL...
2019 Brandon Curry Las Vegas, NV.
2018 Shawn Rhoden Las Vegas, NV
2017 Phill Heath Las Vegas, NV
2016 Phil Heath Las Vegas, NV
2015 Phil Heath Las Vegas, NV
2014 Phil Heath Las Vegas, NV
2013 Phil Heath Las Vegas, NV
2012 Phil Heath Las Vegas, NV
2011 Phil Heath Las Vegas, NV
2010 Jay Cutler Las Vegas, NV
2009 Jay Cutler Las Vegas, NV
2008 Dexter Jackson Las Vegas, NV
2007 Jay Cutler Las Vegas, NV
2006 Jay Cutler Las Vegas, NV
2005 Ronnie Coleman Las Vegas, NV
2004 Ronnie Coleman Las Vegas, NV
2003 Ronnie Coleman Las Vegas, NV
2002 Ronnie Coleman Las Vegas, NV
2001 Ronnie Coleman Las Vegas, NV
2000 Ronnie Coleman Las Vegas, NV
1999 Ronnie Coleman Las Vegas, NV
1998 Ronnie Coleman New York, NY
1997 Dorian Yates Los Angeles, CA
1996 Dorian Yates Chicago, IL
1995 Dorian Yates Atlanta, GA
1994 Dorian Yates Atlanta, GA
1993 Dorian Yates Atlanta, GA
1992 Dorian Yates Helsinki, Finland
1991 Lee Haney Orlando, FL
1990 Lee Haney Chicago, IL
1989 Lee Haney Rimini, Italy
1988 Lee Haney Los Angeles, CA
1987 Lee Haney Gothenburg, Sweden
1986 Lee Haney Columbus, OH
1985 Lee Haney Brussels, Belgium
1984 Lee Haney New York, NY
1983 Samir Bannout Munich, Germany
1982 Chris Dickerson London, England
1981 Franco Columbu Columbus, OH
1980 Arnold Schwarzenegger Sydney, Australia
1979 Frank Zane Columbus, OH
1978 Frank Zane Columbus, OH
1977 Frank Zane Columbus, OH
1976 Franco Columbu Columbus, OH
1975 Arnold Schwarzenegger Pretoria, South Africa
1974 Arnold Schwarzenegger New York, NY
1973 Arnold Schwarzenegger New York, NY
1972 Arnold Schwarzenegger Essen, Germany
1971 Arnold Schwarzenegger Paris France
1970 Arnold Schwarzenegger New York, NY
1969 Sergio Oliva New York, NY
1968 Sergio Oliva New York, NY
1967 Sergio Oliva New York, NY
1966 Larry Scott New York, NY
1965 Larry Scott New York, NY