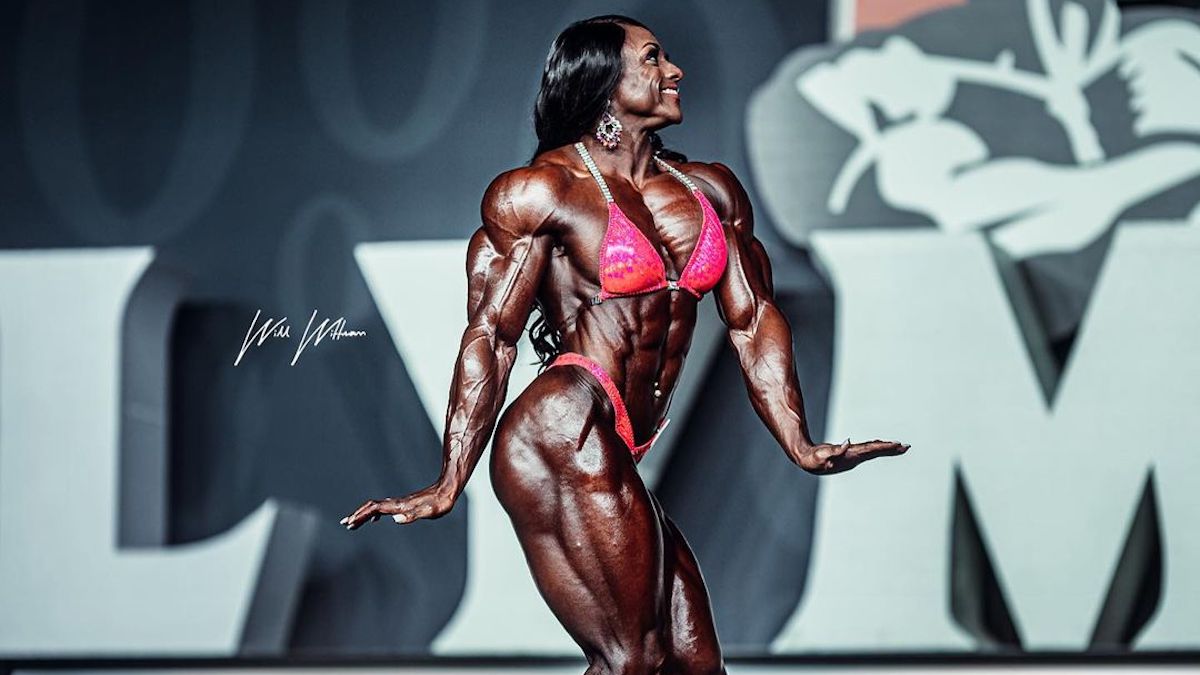 Ms. Olympia Past Champions: All-time Winners List, history Since 1980.




Iris Kyle has won the most titles of Ms. Olympia is overall 10th times, she also the winner-champion of 2014 Ms. Olympia....
Andrea Shaw Goes Back-To-Back, Wins 2021 Ms. Olympia.
Nineteen bodybuilders sought the title of Ms. Olympia at the 2021 Olympia held from Oct. 7-10, 2021, in Orlando, FL.
Reigning Ms. Olympia champion Andrea Shaw returned to the sport's biggest stage to defend her 2021 crown.
Her competition included 2020 Ms. Olympia runner-up Margie Martin, bronze medalist Helle Trevino, and the rest of 2020's top six — MayLa Ash, Irene Andersen, and Monique Jones.
Ms. Olympia brief history & Stats-Facts.
Ms. Olympia

is the title for women's bodybuilding competition held annually & organized by the International Federation of Bodybuilders

(IFBB) as compared to men's bodybuilding competition Mr. Olympia.
The 1st competition was held in 1980 &

Rachel McLish

won the 1st MS. Olympia title.

In 2000 competition there was no overall winner will be chosen, & 2 winners are selected 1 from Heavyweight, other is Lightweight.

The top overall winner-champion of Ms. Olympia is Iris Kyle, who won the Ms. Olympia title 9 consecutive times from 2006 - 2014. Lenda Murray has won the Ms. Olympia title 8th times, Cory Everson has 6

Ms. Olympia

titles, Kim Chizevsky Nicholls won the

Ms. Olympia

title 4 times.

2021 Ms. Olympia winner is Andrea Shaw takes home their share, the Prize money is $50,000.
Mr. Olympia Past Winners List since 1965...
All-Time Ms. Olympia Winners: Full List of Past champions since 1980-2021.



2022 --


2021 - Andrea Shaw Orlando, FL

2020 - Andrea Shaw Orlando, FL

2014 - Ms. Olympia - Iris Kyle

2013 - Ms. Olympia - Iris Kyle

2012 - Ms. Olympia - Iris Kyle

2011 - Ms. Olympia - Iris Kyle

2010 - Ms. Olympia - Iris Kyle

2009 - Ms. Olympia - Iris Kyle

2008 - Ms. Olympia - Iris Kyle

2007 - Ms. Olympia - Iris Kyle

2006 - Ms. Olympia - Iris Kyle

2005 - Ms. Olympia - Yaxeni Oriquen

2004 - Ms. Olympia - Iris Kyle

2003 - Ms. Olympia - Lenda Murray

2002 - Ms. Olympia - Lenda Murray

2001 - Ms. Olympia - Juliette Bergman

2000 - Ms. Olympia - Valentina Chepiga (HW) Andrulla Blanchette (LW)
1999 - Ms. Olympia - Kim Chizevsky

1998 - Ms. Olympia - Kim Chizevsky

1997 - Ms. Olympia - Kim Chizevsky

1996 - Ms. Olympia - Kim Chizevsky

1995 - Ms. Olympia - Lenda Murray

1994 - Ms. Olympia - Lenda Murray

1993 - Ms. Olympia - Lenda Murray

1992 - Ms. Olympia - Lenda Murray

1991 - Ms. Olympia - Lenda Murray

1990 - Ms. Olympia - Lenda Murray

1989 - Ms. Olympia - Cory Everson

1988 - Ms. Olympia - Cory Everson

1987 - Ms. Olympia - Cory Everson

1986 - Ms. Olympia - Cory Everson

1985 - Ms. Olympia - Cory Everson

1984 - Ms. Olympia - Cory Everson

1983 - Ms. Olympia - Carla Dunlap

1982 - Ms. Olympia - Rachel McLish

1981 - Ms. Olympia - Kike Elomaa

1980 - Ms. Olympia - Rachel McLish