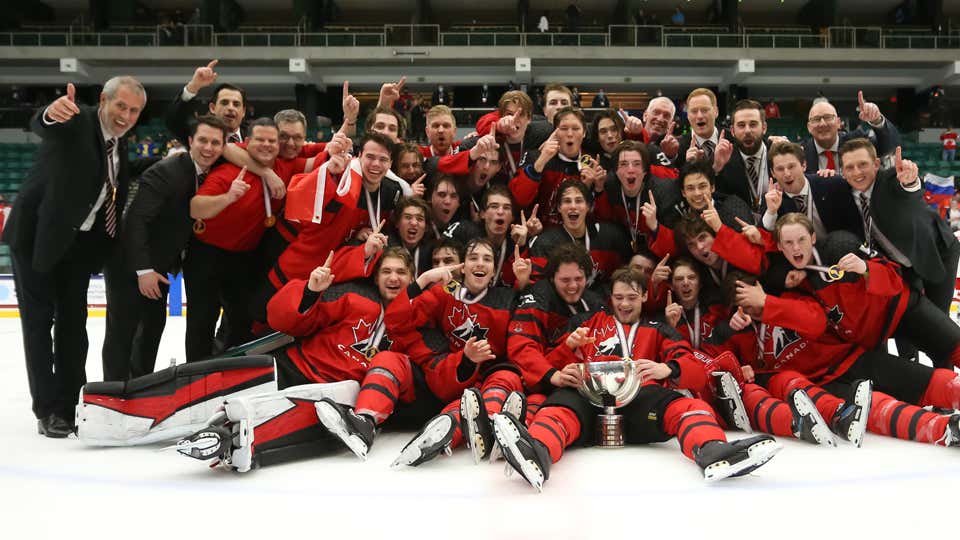 IIHF Ice Hockey U18 Men's World Championship 2022: Schedule, dates, Groups, Teams, TV times, Venues, Buy tickets.






These Two host cities Kaufbeuren and Landshut will stage the all games schedule of the 2022 IIHF Ice Hockey U18 World Championship that will take place in these two German cities.
The world's top male under-18 players will compete for gold in the two Bavarian hockey towns from 21 April to 1 May 2022.






Group A (ProTrain Arena, Mjolby):

(1) USA (2) Canada (3) Russia (4) Finland
Group B (Stangebro Ishall, Linkoping):

(5) Sweden (6) Czechia (7) Switzerland (8) Germany




Information on how to buy tickets for the IIHF U18 Mens 2022 event will become known on www.u18worlds.hockey.




2022 IIHF U18 Men's World Championship 2022: preliminary round Schedule, dates, start-times, venues.






All times in ET.






April 21 --- RUS vs BLR --- 09:00 (Group B)

April 21 --- FIN vs SUI --- 10:00 (Group A)

April 21 --- SWE vs CZE --- 13:00 (Group B)

April 21 --- CAN vs USA --- 14:00 (Group A)



April 22 --- BLR vs GER --- 09:00 (Group B)

April 22 --- USA vs LAT --- 10:00 (Group A)

April 22 --- CZE vs RUS --- 13:00 (Group B)

April 22 --- CAN vs SUI --- 14:00 (Group A)



April 23 --- GER vs SWE --- 12:00 (Group B)

April 23 --- LAT vs FIN --- 13:00 (Group A)



April 24 --- BLR vs CZE --- 09:00 (Group B)

April 24 --- USA vs SUI--- 10:00 (Group A)

April 24 --- RUS vs SWE --- 13:00 (Group B)

April 24 --- CAN vs FIN --- 14:00 (Group A)



April 25 --- CZE vs GER --- 12:00 (Group B)

April 25 --- SUI vs LAT --- 13:00 (Group A)



April 26 --- SWE vs BLR --- 09:00 (Group B)

April 26 --- FIN vs USA --- 10:00 (Group A)

April 26 --- GER vs RUS --- 13:00 (Group B)

April 26 --- CAN vs LAT --- 14:00 (Group A)





Quarterfinals: April 28




QF #1 - 09:00 (Landshut)

QF #2 - 10:00 (Kaufbeuren)

QF #3 - 13:00 (Landshut)

QF #4 - 14:00 (Kaufbeuren)





Semifinals: April 30 in Landshut:



SF #1 - 08:30

SF #2 - 12:30





Medal Games: May 1 in Landshut:





Bronze Medal Game - 08:30


Gold Medal Game - 12:30




____