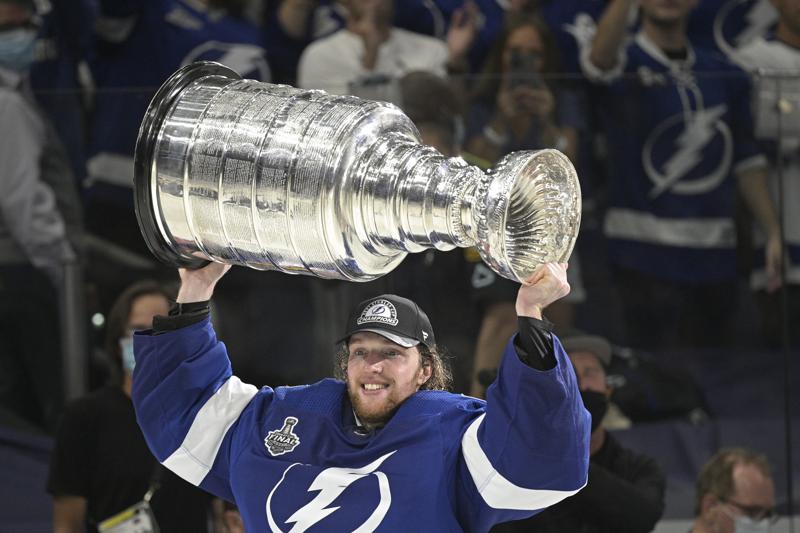 Tampa Bay Lightning beats Montreal Canadiens 1-0, Repeats as 2021 Stanley Cup Champions.
TAMPA -- The Tampa Bay Lightning won the Stanley Cup, champions for the second straight season with a 1-0 victory against the Montreal Canadiens in Game 5 of the Final at Amalie Arena on Wednesday.
The Bolts are the second team of the salary cap era to repeat, joining the 2016-17 Pittsburgh Penguins, though salary cap issues could make some parts of the team look different next season.
Andrei Vasilevskiy made 22 saves for Tampa Bay, which won the Cup for the third time in its history (2004). Ross Colton scored the only goal.
It was Vasilevskiy's series-ending shutout for an NHL-record fifth consecutive time of the 2021 Stanley Cup Playoffs and fourth to win a series. He was voted winner of the Conn Smythe Trophy as postseason MVP.
Colton tapped in a pass from defenseman David Savard to give the Lightning a 1-0 lead at 13:27 of the second period. Neither Colton nor Savard won the Cup last season; Colton is a rookie, and Savard was acquired in a trade with the Columbus Blue Jackets on April 10.





The Bolts 2nd straight season champions, Most wins, saves, Lightning makes history, best NHL stats.




1 - Tampa Bay is the ninth team to repeat as Stanley Cup champions, the first since the Pittsburgh Penguins in 2016 and 2017.

2 - Carey Price made 29 saves for Montreal, which was playing in the Cup Final for the first time since 1993.

3 - Tampa Bay forward Pat Maroon has won the Stanley Cup three straight seasons includes the 2019 with St. Louis Blues, Since the First Ed Litzenberger did it with Chicago in 1961 & Toronto from 1962-64. ..

4 - Kucherov became the sixth player in NHL history to lead the postseason in points without a tie in consecutive seasons..

5 - Tampa Bay forward Brayden Point became the sixth player in NHL history to lead the playoffs in goals without a tie in consecutive seasons (14 goals in 23 games each season).. First since Edmonton's Jari Kurri in 1987 & 1988.

6 - The Lightning are the first NHL team to clinch a Stanley Cup title at home since the Chicago Blackhawks did it in 2015 against Tampa Bay.






....
Courtesy to nhl.com