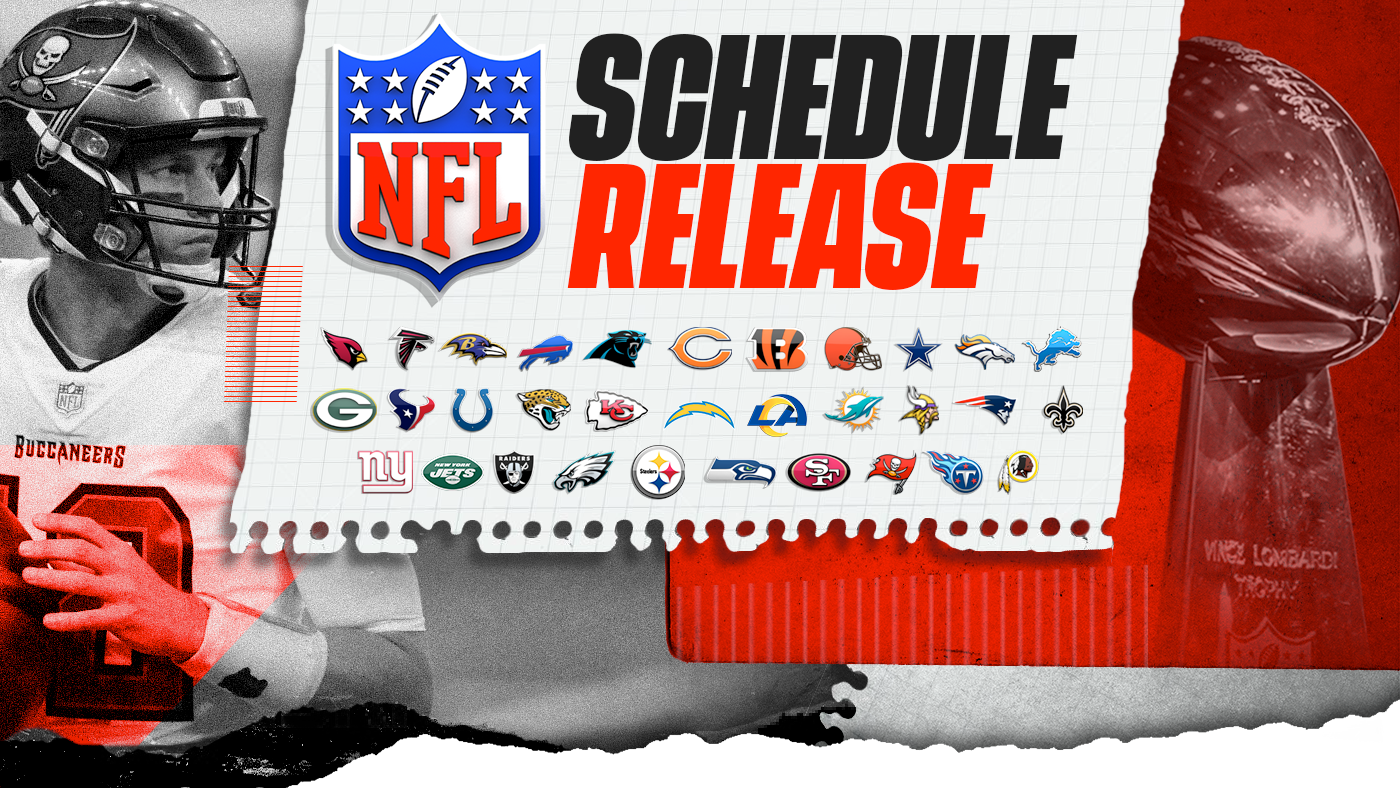 NFL schedule 2021: Matchups Dates By Team, kickoff times, TV channel, every matchup for all 32 teams.
After months of anticipation, the NFL has released its 2021 schedule. The league has plenty of intriguing matchups for fans to look forward to, starting with the thrilling kickoff game between the Super Bowl champion Tampa Bay Buccaneers and the Dallas Cowboys on September 9....
For the fifth time, Tom Brady will play in the NFL's kickoff game. Brady was 3-1 in such games during his prolific run with the Patriots. Brady will look to get the Buccaneers' title defense off to a winning start against a Cowboys team, their are also welcoming back own quarterback, Dak Prescott. Since 2004, defending champions are 13-3 when playing in the NFL's season opener.
NFL Schedule 2021: Full 18 weeks Team-by-Team TV Schedule dates, matchups, kick-off times, where to watch online Live stream.
Find all the info you need in our ( Sportshistori.com ) team-by-team look at the 2021 NFL schedule,
Here's a look at every team's full schedule below, including kickoff time, TV channel and more at ( Sportshistori.com ) .
All kickoff times are in ET.



Here it is!
Arizona Cardinals
| | | | |
| --- | --- | --- | --- |
| Sep. 12 | at Tennessee Titans | 1 PM | CBS |
| Sep. 19 | Minnesota Vikings | 4:05 PM | FOX |
| Sep. 26 | at Jacksonville Jaguars | 1 PM | FOX |
| Oct. 3 | at Los Angeles Rams | 4:05 PM | FOX |
| Oct. 10 | San Francisco 49ers | 4:25 PM | FOX |
| Oct. 17 | at Cleveland Browns | 4:05 PM | FOX |
| Oct. 24 | Houston Texans | 4:25 PM | CBS |
| Oct. 28 | Green Bay Packers (Thu) | 8:20 PM | FOX/NFLN/Amazon** |
| Nov. 7 | at San Francisco 49ers | 4:25 PM | FOX |
| Nov. 14 | Carolina Panthers | 4:05 PM | FOX |
| Nov. 21 | at Seattle Seahawks | 4:25 PM | FOX |
| | BYE | | |
| Dec. 5 | at Chicago Bears | 1 PM | FOX |
| Dec. 13 | Los Angeles Rams (Mon) | 8:15 PM | ESPN |
| Dec. 19 | at Detroit Lions | 1 PM | FOX |
| Dec. 25 | Indianapolis Colts | 8:15 PM | NFLN |
| Jan. 2 | at Dallas Cowboys | 1 PM | FOX |
| Jan. 9 | Seattle Seahawks | 4:25 PM | FOX |


Atlanta Falcons
| | | | |
| --- | --- | --- | --- |
| Sep. 12 | Philadelphia Eagles | 1:00 PM | FOX |
| Sep. 19 | at Tampa Bay Buccaneers | 4:05 PM | FOX |
| Sep. 26 | at New York Giants | 1:00 PM | FOX |
| Oct. 3 | Washington Football Team | 1:00 PM | FOX |
| Oct. 10 | New York Jets (London) | 9:30 AM | NFLN |
| | BYE | | |
| Oct. 24 | at Miami Dolphins | 1:00 PM | FOX |
| Oct. 31 | Carolina Panthers | 1:00 PM | FOX |
| Nov. 7 | at New Orleans Saints | 1:00 PM | FOX |
| Nov. 14 | at Dallas Cowboys | 1:00 PM | FOX |
| Nov. 18 | New England Patriots (Thu) | 8:20 PM | FOX/NFLN/Amazon** |
| Nov. 28 | at Jacksonville Jaguars | 1:00 PM | CBS |
| Dec. 5 | Tampa Bay Buccaneers | 1:00 PM | FOX |
| Dec. 12 | at Carolina Panthers | 1:00 PM | FOX |
| Dec. 19 | at San Francisco 49ers | 1:00 PM | CBS |
| Dec. 26 | Detroit Lions | 1:00 PM | FOX |
| Jan. 2 | at Buffalo Bills | 1:00 PM | FOX |
| Jan. 9 | New Orleans Saints | 1:00 PM | FOX |


Baltimore Ravens
| | | | |
| --- | --- | --- | --- |
| Sep. 13 | at Las Vegas Raiders (Mon) | 8:15 PM | ESPN/ABC |
| Sep. 19 | Kansas City Chiefs | 8:20 PM | NBC |
| Sep. 26 | at Detroit Lions | 1:00 PM | CBS |
| Oct. 3 | at Denver Broncos | 4:25 PM | CBS |
| Oct. 11 | Indianapolis Colts (Mon) | 8:15 PM | ESPN |
| Oct. 17 | Los Angeles Chargers | 1:00 PM | CBS |
| Oct. 24 | Cincinnati Bengals | 1:00 PM | CBS |
| | BYE | | |
| Nov. 7 | Minnesota Vikings | 1:00 PM | FOX |
| Nov. 11 | at Miami Dolphins (Thu) | 8:20 PM | FOX/NFLN/Amazon** |
| Nov. 21 | at Chicago Bears | 1:00 PM | CBS |
| Nov. 28 | Cleveland Browns | 8:20 PM | NBC* |
| Dec. 5 | at Pittsburgh Steelers | 4:25 PM | CBS |
| Dec. 12 | at Cleveland Browns | 1:00 PM | CBS |
| Dec. 19 | Green Bay Packers | 1:00 PM | FOX |
| Dec. 26 | at Cincinnati Bengals | 1:00 PM | CBS |
| Jan. 2 | Los Angeles Rams | 4:25 PM | FOX |
| Jan. 9 | Pittsburgh Steelers | 1:00 PM | CBS |


Buffalo Bills
| | | | |
| --- | --- | --- | --- |
| Sep. 12 | Pittsburgh Steelers | 1:00 PM | CBS |
| Sep. 19 | at Miami Dolphins | 1:00 PM | FOX |
| Sep. 26 | Washington Football Team | 1:00 PM | FOX |
| Oct. 3 | Houston Texans | 1:00 PM | CBS |
| Oct. 10 | at Kansas City Chiefs | 8:20 PM | NBC* |
| Oct. 18 | at Tennessee Titans (Mon) | 8:15 PM | ESPN |
| | BYE | | |
| Oct. 31 | Miami Dolphins | 1:00 PM | CBS |
| Nov. 7 | at Jacksonville Jaguars | 1:00 PM | CBS |
| Nov. 14 | at New York Jets | 1:00 PM | CBS |
| Nov. 21 | Indianapolis Colts | 1:00 PM | CBS |
| Nov. 25 | at New Orleans Saints (Thanksgiving) | 8:20 PM | NBC |
| Dec. 6 | New England Patriots (Mon) | 8:15 PM | ESPN |
| Dec. 12 | at Tampa Bay Buccaneers | 4:25 PM | CBS |
| TBD | Carolina Panthers | TBD | TBD |
| Dec. 26 | at New England Patriots | 1:00 PM | CBS |
| Jan. 2 | Atlanta Falcons | 1:00 PM | FOX |
| Jan. 9 | New York Jets | 1:00 PM | CBS |


Carolina Panthers
| | | | |
| --- | --- | --- | --- |
| Sep. 12 | New York Jets | 1:00 PM | CBS |
| Sep. 19 | New Orleans Saints | 1:00 PM | FOX |
| Sep. 23 | at Houston Texans (Thu) | 8:30 PM | NFLN |
| Oct. 3 | at Dallas Cowboys | 1:00 PM | FOX |
| Oct. 10 | Philadelphia Eagles | 1:00 PM | FOX |
| Oct. 17 | Minnesota Vikings | 1:00 PM | FOX |
| Oct. 24 | at New York Giants | 1:00 PM | FOX |
| Oct. 31 | at Atlanta Falcons | 1:00 PM | FOX |
| Nov. 7 | New England Patriots | 1:00 PM | CBS |
| Nov. 14 | at Arizona Cardinals | 4:05 PM | FOX |
| Nov. 21 | Washington Football Team | 1:00 PM | FOX |
| Nov. 28 | at Miami Dolphins | 1:00 PM | FOX |
| | BYE | | |
| Dec. 12 | Atlanta Falcons | 1:00 PM | FOX |
| TBD | at Buffalo Bills | TBD | TBD |
| Dec. 26 | Tampa Bay Buccaneers | 1:00 PM | FOX |
| Jan. 2 | at New Orleans Saints | 1:00 PM | FOX |
| Jan. 9 | at Tampa Bay Buccaneers | 1:00 PM | FOX |


Chicago Bears
| | | | |
| --- | --- | --- | --- |
| Sep. 12 | at Los Angeles Rams | 8:20 PM | NBC |
| Sep. 19 | Cincinnati Bengals | 1:00 PM | FOX |
| Sep. 26 | at Cleveland Browns | 1:00 PM | FOX |
| Oct. 3 | Detroit Lions | 1:00 PM | FOX |
| Oct. 10 | at Las Vegas Raiders | 4:05 PM | CBS |
| Oct. 17 | Green Bay Packers | 1:00 PM | FOX |
| Oct. 24 | at Tampa Bay Buccaneers | 4:25 PM | CBS |
| Oct. 31 | San Francisco 49ers | 1:00 PM | FOX |
| Nov. 8 | at Pittsburgh Steelers (Mon) | 8:15 PM | ESPN |
| | BYE | | |
| Nov. 21 | Baltimore Ravens | 1:00 PM | CBS |
| Nov. 25 | at Detroit Lions (Thanksgiving) | 12:30 PM | FOX |
| Dec. 5 | Arizona Cardinals | 1:00 PM | FOX |
| Dec. 12 | at Green Bay Packers | 8:20 PM | NBC* |
| Dec. 20 | Minnesota Vikings (Mon) | 8:15 PM | ESPN |
| Dec. 26 | at Seattle Seahawks | 4:05 PM | FOX |
| Jan. 2 | New York Giants | 1:00 PM | CBS |
| Jan. 9 | at Minnesota Vikings | 1:00 PM | FOX |


Cincinnati Bengals
| | | | |
| --- | --- | --- | --- |
| Sep. 12 | Minnesota Vikings | 1:00 PM | FOX |
| Sep. 19 | at Chicago Bears | 1:00 PM | FOX |
| Sep. 26 | at Pittsburgh Steelers | 1:00 PM | CBS |
| Sep. 30 | Jacksonville Jaguars (Thu) | 8:20 PM | NFLN |
| Oct. 10 | Green Bay Packers | 1:00 PM | FOX |
| Oct. 17 | at Detroit Lions | 1:00 PM | FOX |
| Oct. 24 | at Baltimore Ravens | 1:00 PM | CBS |
| Oct. 31 | at New York Jets | 1:00 PM | CBS |
| Nov. 7 | Cleveland Browns | 1:00 PM | CBS |
| | BYE | | |
| Nov. 21 | at Las Vegas Raiders | 4:05 PM | CBS |
| Nov. 28 | Pittsburgh Steelers | 1:00 PM | CBS |
| Dec. 5 | Los Angeles Chargers | 1:00 PM | FOX |
| Dec. 12 | San Francisco 49ers | 1:00 PM | CBS |
| Dec. 19 | at Denver Broncos | 4:05 PM | CBS |
| Dec. 26 | Baltimore Ravens | 1:00 PM | CBS |
| Jan. 2 | Kansas City Chiefs | 1:00 PM | CBS |
| Jan. 9 | at Cleveland Browns | 1:00 PM | CBS |


Cleveland Browns
| | | | |
| --- | --- | --- | --- |
| Sep. 12 | at Kansas City Chiefs | 4:25 PM | CBS |
| Sep. 19 | Houston Texans | 1:00 PM | CBS |
| Sep. 26 | Chicago Bears | 1:00 PM | FOX |
| Oct. 3 | at Minnesota Vikings | 1:00 PM | CBS |
| Oct. 10 | at Los Angeles Chargers | 4:05 PM | CBS |
| Oct. 17 | Arizona Cardinals | 4:05 PM | FOX |
| Oct. 21 | Denver Broncos (Thu) | 8:20 PM | FOX/NFLN/Amazon** |
| Oct. 31 | Pittsburgh Steelers | 1:00 PM | CBS |
| Nov. 7 | at Cincinnati Bengals | 1:00 PM | CBS |
| Nov. 14 | at New England Patriots | 1:00 PM | CBS |
| Nov. 21 | Detroit Lions | 1:00 PM | FOX |
| Nov. 28 | at Baltimore Ravens | 8:20 PM | NBC* |
| | BYE | | |
| Dec. 12 | Baltimore Ravens | 1:00 PM | CBS |
| TBD | Las Vegas Raiders | TBD | TBD |
| Dec. 25 | at Green Bay Packers | 4:30 PM | FOX/NFLN/Amazon** |
| Jan. 3 | at Pittsburgh Steelers (Mon) | 8:15 PM | ESPN |
| Jan. 9 | Cincinnati Bengals | 1:00 PM | CBS |


Dallas Cowboys
| | | | |
| --- | --- | --- | --- |
| Sep. 9 | at Tampa Bay Buccaneers (Thu) | 8:20 PM | NBC |
| Sep. 19 | at Los Angeles Chargers | 4:25 PM | CBS |
| Sep. 27 | Philadelphia Eagles (Mon) | 8:15 PM | ESPN |
| Oct. 3 | Carolina Panthers | 1 PM | FOX |
| Oct. 10 | New York Giants | 4:25 PM | FOX |
| Oct. 17 | at New England Patriots | 4:25 PM | CBS |
| | BYE | | |
| Oct. 31 | at Minnesota Vikings | 8:20 PM | NBC* |
| Nov. 7 | Denver Broncos | 1 PM | FOX |
| Nov. 14 | Atlanta Falcons | 1 PM | FOX |
| Nov. 21 | at Kansas City Chiefs | 4:25 PM | FOX |
| Nov. 25 | Las Vegas Raiders (Thanksgiving) | 4:30 PM | CBS |
| Dec. 2 | at New Orleans Saints (Thu) | 8:20 PM | FOX/NFLN/Amazon** |
| Dec. 12 | at Washington Football Team | 1 PM | FOX |
| Dec. 19 | at New York Giants | 1 PM | FOX |
| Dec. 26 | Washington Football Team | 8:20 PM | NBC* |
| Jan. 2 | Arizona Cardinals | 1 PM | FOX |
| Jan. 9 | at Philadelphia Eagles | 1 PM | FOX |


Denver Broncos
| | | | |
| --- | --- | --- | --- |
| Sep. 12 | at New York Giants | 4:25 PM | FOX |
| Sep. 19 | at Jacksonville Jaguars | 1 PM | CBS |
| Sep. 26 | New York Jets | 4:05 PM | CBS |
| Oct. 3 | Baltimore Ravens | 4:25 PM | CBS |
| Oct. 10 | at Pittsburgh Steelers | 1 PM | FOX |
| Oct. 17 | Las Vegas Raiders | 4:25 PM | CBS |
| Oct. 21 | at Cleveland Browns (Thu) | 8:20 PM | FOX/NFLN/Amazon** |
| Oct. 31 | Washington Football Team | 4:25 PM | FOX |
| Nov. 7 | at Dallas Cowboys | 1 PM | FOX |
| Nov. 14 | Philadelphia Eagles | 4:25 PM | CBS |
| | BYE | | |
| Nov. 28 | Los Angeles Chargers | 4:05 PM | CBS |
| Dec. 5 | at Kansas City Chiefs | 1 PM | CBS |
| Dec. 12 | Detroit Lions | 4:05 PM | FOX |
| Dec. 19 | Cincinnati Bengals | 4:05 PM | CBS |
| Dec. 26 | at Las Vegas Raiders | 4:25 PM | CBS |
| Jan. 2 | at Los Angeles Chargers | 4:05 PM | CBS |
| Jan. 9 | Kansas City Chiefs | 4:25 PM | CBS |


Detroit Lions
| | | | |
| --- | --- | --- | --- |
| Sep. 12 | San Francisco 49ers | 1:00 PM | FOX |
| Sep. 20 | at Green Bay Packers (Mon) | 8:15 PM | ESPN |
| Sep. 26 | Baltimore Ravens | 1:00 PM | CBS |
| Oct. 3 | at Chicago Bears | 1:00 PM | FOX |
| Oct. 10 | at Minnesota Vikings | 1:00 PM | FOX |
| Oct. 17 | Cincinnati Bengals | 1:00 PM | FOX |
| Oct. 24 | at Los Angeles Rams | 4:05 PM | FOX |
| Oct. 31 | Philadelphia Eagles | 1:00 PM | FOX |
| | BYE | | |
| Nov. 14 | at Pittsburgh Steelers | 1:00 PM | FOX |
| Nov. 21 | at Cleveland Browns | 1:00 PM | FOX |
| Nov. 25 | Chicago Bears (Thanksgiving) | 12:30 PM | FOX |
| Dec. 5 | Minnesota Vikings | 1:00 PM | CBS |
| Dec. 12 | at Denver Broncos | 4:05 PM | FOX |
| Dec. 19 | Arizona Cardinals | 1:00 PM | FOX |
| Dec. 26 | at Atlanta Falcons | 1:00 PM | FOX |
| Jan. 2 | at Seattle Seahawks | 4:25 PM | FOX |
| Jan. 9 | Green Bay Packers | 1:00 PM | FOX |


Green Bay Packers
| | | | |
| --- | --- | --- | --- |
| Sep. 12 | at New Orleans Saints | 4:25 PM | FOX |
| Sep. 20 | Detroit Lions (Mon) | 8:15 PM | ESPN |
| Sep. 26 | at San Francisco 49ers | 8:20 PM | NBC |
| Oct. 3 | Pittsburgh Steelers | 4:25 PM | CBS |
| Oct. 10 | at Cincinnati Bengals | 1:00 PM | FOX |
| Oct. 17 | at Chicago Bears | 1:00 PM | FOX |
| Oct. 24 | Washington Football Team | 1:00 PM | FOX |
| Oct. 28 | at Arizona Cardinals (Thu) | 8:20 PM | FOX/NFLN/Amazon** |
| Nov. 7 | at Kansas City Chiefs | 4:25 PM | FOX |
| Nov. 14 | Seattle Seahawks | 4:25 PM | CBS |
| Nov. 21 | at Minnesota Vikings | 1:00 PM | FOX |
| Nov. 28 | Los Angeles Rams | 4:25 PM | FOX |
| | BYE | | |
| Dec. 12 | Chicago Bears | 8:20 PM | NBC* |
| Dec. 19 | at Baltimore Ravens | 1:00 PM | FOX |
| Dec. 25 | Cleveland Browns | 4:30 PM | FOX/NFLN/Amazon** |
| Jan. 2 | Minnesota Vikings | 8:20 PM | NBC* |
| Jan. 9 | at Detroit Lions | 1:00 PM | FOX |


Houston Texans
| | | | |
| --- | --- | --- | --- |
| Sep. 12 | Jacksonville Jaguars | 1:00 PM | CBS |
| Sep. 19 | at Cleveland Browns | 1:00 PM | CBS |
| Sep. 23 | Carolina Panthers (Thu) | 8:20 PM | NFLN |
| Oct. 3 | at Buffalo Bills | 1:00 PM | CBS |
| Oct. 10 | New England Patriots | 1:00 PM | CBS |
| Oct. 17 | at Indianapolis Colts | 1:00 PM | CBS |
| Oct. 24 | at Arizona Cardinals | 4:25 PM | CBS |
| Oct. 31 | Los Angeles Rams | 1:00 PM | FOX |
| Nov. 7 | at Miami Dolphins | 1:00 PM | FOX |
| | BYE | | |
| Nov. 21 | at Tennessee Titans | 1:00 PM | CBS |
| Nov. 28 | New York Jets | 1:00 PM | CBS |
| Dec. 5 | Indianapolis Colts | 1:00 PM | CBS |
| Dec. 12 | Seattle Seahawks | 1:00 PM | FOX |
| Dec. 19 | at Jacksonville Jaguars | 1:00 PM | CBS |
| Dec. 26 | Los Angeles Chargers | 1:00 PM | CBS |
| Jan. 2 | at San Francisco 49ers | 4:05 PM | CBS |
| Jan. 9 | Tennessee Titans | 1:00 PM | CBS |


Indianapolis Colts
| | | | |
| --- | --- | --- | --- |
| Sep. 12 | Seattle Seahawks | 1:00 PM | FOX |
| Sep. 19 | Los Angeles Rams | 1:00 PM | FOX |
| Sep. 26 | at Tennessee Titans | 1:00 PM | CBS |
| Oct. 3 | at Miami Dolphins | 1:00 PM | CBS |
| Oct. 11 | at Baltimore Ravens (Mon) | 8:15 PM | ESPN |
| Oct. 17 | Houston Texans | 1:00 PM | CBS |
| Oct. 24 | at San Francisco 49ers | 8:20 PM | NBC* |
| Oct. 31 | Tennessee Titans | 1:00 PM | CBS |
| Nov. 4 | New York Jets (Thu) | 8:20 PM | FOX/NFLN/Amazon** |
| Nov. 14 | Jacksonville Jaguars | 1:00 PM | CBS |
| Nov. 21 | at Buffalo Bills | 1:00 PM | CBS |
| Nov. 28 | Tampa Bay Buccaneers | 1:00 PM | FOX |
| Dec. 5 | at Houston Texans | 1:00 PM | CBS |
| | BYE | | |
| TBD | New England Patriots | TBD | TBD |
| Dec. 25 | at Arizona Cardinals | 8:15 PM | NFLN |
| Jan. 2 | Las Vegas Raiders | 1:00 PM | CBS |
| Jan. 9 | at Jacksonville Jaguars | 1:00 PM | CBS |


Jacksonville Jaguars
| | | | |
| --- | --- | --- | --- |
| Sep. 12 | at Houston Texans | 1:00 PM | CBS |
| Sep. 19 | Denver Broncos | 1:00 PM | CBS |
| Sep. 26 | Arizona Cardinals | 1:00 PM | FOX |
| Sep. 30 | at Cincinnati Bengals (Thu) | 8:20 PM | NFLN |
| Oct. 10 | Tennessee Titans | 1:00 PM | CBS |
| Oct. 17 | Miami Dolphins (London) | 9:30 AM | CBS |
| | BYE | | |
| Oct. 31 | at Seattle Seahawks | 4:05 PM | CBS |
| Nov. 7 | Buffalo Bills | 1:00 PM | CBS |
| Nov. 14 | at Indianapolis Colts | 1:00 PM | CBS |
| Nov. 21 | San Francisco 49ers | 1:00 PM | FOX |
| Nov. 28 | Atlanta Falcons | 1:00 PM | CBS |
| Dec. 5 | at Los Angeles Rams | 4:25 PM | CBS |
| Dec. 12 | at Tennessee Titans | 1:00 PM | CBS |
| Dec. 19 | Houston Texans | 1:00 PM | CBS |
| Dec. 26 | at New York Jets | 1:00 PM | CBS |
| Jan. 2 | at New England Patriots | 1:00 PM | CBS |
| Jan. 9 | Indianapolis Colts | 1:00 PM | CBS |


Kansas City Chiefs
| | | | |
| --- | --- | --- | --- |
| Sep. 12 | Cleveland Browns | 4:25 PM | CBS |
| Sep. 19 | at Baltimore Ravens | 8:20 PM | NBC |
| Sep. 26 | Los Angeles Chargers | 1:00 PM | CBS |
| Oct. 3 | at Philadelphia Eagles | 1:00 PM | CBS |
| Oct. 10 | Buffalo Bills | 8:20 PM | NBC* |
| Oct. 17 | at Washington Football Team | 1:00 PM | CBS |
| Oct. 24 | at Tennessee Titans | 1:00 PM | CBS |
| Nov. 1 | New York Giants (Mon) | 8:15 PM | ESPN |
| Nov. 7 | Green Bay Packers | 4:25 PM | FOX |
| Nov. 14 | at Las Vegas Raiders | 8:20 PM | NBC* |
| Nov. 21 | Dallas Cowboys | 4:25 PM | FOX |
| | BYE | | |
| Dec. 5 | Denver Broncos | 1:00 PM | CBS |
| Dec. 12 | Las Vegas Raiders | 1:00 PM | CBS |
| Dec. 16 | at Los Angeles Chargers (Thu) | 8:20 PM | FOX/NFLN/Amazon** |
| Dec. 26 | Pittsburgh Steelers | 4:25 PM | CBS |
| Jan. 2 | at Cincinnati Bengals | 1:00 PM | CBS |
| Jan. 9 | at Denver Broncos | 4:25 PM | CBS |


Los Angeles Chargers
Sep. 12
at Washington Football Team
1 PM
CBS


Sep. 19
Dallas Cowboys
4:25 PM
CBS


Sep. 26
at Kansas City Chiefs
1 PM
CBS


Oct. 4
Las Vegas Raiders (Mon)
8:15 PM
ESPN


Oct. 10
Cleveland Browns
4:05 PM
CBS


Oct. 17
at Baltimore Ravens
1 PM
CBS




BYE






Oct. 31
New England Patriots
4:05 PM
CBS


Nov. 7
at Philadelphia Eagles
4:05 PM
CBS


Nov. 14
Minnesota Vikings
4:05 PM
FOX


Nov. 21
Pittsburgh Steelers
8:20 PM
NBC*


Nov. 28
at Denver Broncos
4:05 PM
CBS


Dec. 5
at Cincinnati Bengals
1 PM
FOX


Dec. 12
New York Giants
4:05 PM
FOX


Dec. 16
Kansas City Chiefs (Thu)
8:20 PM
FOX/NFLN/Amazon**


Dec. 26
at Houston Texans
1 PM
CBS


Jan. 2
Denver Broncos
4:05 PM
CBS


Jan. 9
at Las Vegas Raiders
4:25 PM
CBS


Los Angeles Rams
Sep. 12
Chicago Bears
8:20 PM
NBC


Sep. 19
at Indianapolis Colts
1 PM
FOX


Sep. 26
Tampa Bay Buccaneers
4:25 PM
FOX


Oct. 3
Arizona Cardinals
4:05 PM
FOX


Oct. 7
at Seattle Seahawks (Thu)
8:20 PM
FOX/NFLN/Amazon**


Oct. 17
at New York Giants
1 PM
FOX


Oct. 24
Detroit Lions
4:05 PM
FOX


Oct. 31
at Houston Texans
1 PM
FOX


Nov. 7
Tennessee Titans
8:20 PM
NBC*


Nov. 15
at San Francisco 49ers (Mon)
8:15 PM
ESPN




BYE






Nov. 28
at Green Bay Packers
4:25 PM
FOX


Dec. 5
Jacksonville Jaguars
4:25 PM
CBS


Dec. 13
at Arizona Cardinals (Mon)
8:15 PM
ESPN


Dec. 19
Seattle Seahawks
4:25 PM
FOX


Dec. 26
at Minnesota Vikings
1 PM
FOX


Jan. 2
at Baltimore Ravens
4:25 PM
FOX


Jan. 9
San Francisco 49ers
4:25 PM
FOX


Las Vegas Raiders
| | | | |
| --- | --- | --- | --- |
| Sep. 13 | Baltimore Ravens (Mon) | 8:15 PM | ESPN/ABC |
| Sep. 19 | at Pittsburgh Steelers | 1 PM | CBS |
| Sep. 26 | Miami Dolphins | 4:05 PM | CBS |
| Oct. 4 | at Los Angeles Chargers (Mon) | 8:15 PM | ESPN |
| Oct. 10 | Chicago Bears | 4:05 PM | CBS |
| Oct. 17 | at Denver Broncos | 4:25 PM | CBS |
| Oct. 24 | Philadelphia Eagles | 4:05 PM | FOX |
| | BYE | | |
| Nov. 7 | at New York Giants | 1 PM | CBS |
| Nov. 14 | Kansas City Chiefs | 8:20 PM | NBC* |
| Nov. 21 | Cincinnati Bengals | 4:05 PM | CBS |
| Nov. 25 | at Dallas Cowboys (Thanksgiving) | 4:30 PM | CBS |
| Dec. 5 | Washington Football Team | 4:05 PM | FOX |
| Dec. 12 | at Kansas City Chiefs | 1 PM | CBS |
| TBD | at Cleveland Browns | TBD | TBD |
| Dec. 26 | Denver Broncos | 4:25 PM | CBS |
| Jan. 2 | at Indianapolis Colts | 1 PM | CBS |
| Jan. 9 | Los Angeles Chargers | 4:25 PM | CBS |


Miami Dolphins
| | | | |
| --- | --- | --- | --- |
| Sep. 12 | at New England Patriots | 4:25 PM | CBS |
| Sep. 19 | Buffalo Bills | 1:00 PM | FOX |
| Sep. 26 | at Las Vegas Raiders | 4:05 PM | CBS |
| Oct. 3 | Indianapolis Colts | 1:00 PM | CBS |
| Oct. 10 | at Tampa Bay Buccaneers | 1:00 PM | CBS |
| Oct. 17 | at Jacksonville Jaguars (London) | 9:30 AM | CBS |
| Oct. 24 | Atlanta Falcons | 1:00 PM | FOX |
| Oct. 31 | at Buffalo Bills | 1:00 PM | CBS |
| Nov. 7 | Houston Texans | 1:00 PM | FOX |
| Nov. 11 | Baltimore Ravens (Thu) | 8:20 PM | FOX/NFLN/Amazon** |
| Nov. 21 | at New York Jets | 1:00 PM | CBS |
| Nov. 28 | Carolina Panthers | 1:00 PM | FOX |
| Dec. 5 | New York Giants | 1:00 PM | FOX |
| | BYE | | |
| TBD | New York Jets | TBD | TBD |
| Dec. 27 | at New Orleans Saints (Mon) | 8:15 PM | ESPN |
| Jan. 2 | at Tennessee Titans | 1:00 PM | CBS |
| Jan. 9 | New England Patriots | 1:00 PM | CBS |


Minnesota Vikings
Sep. 12
at Cincinnati Bengals
1 PM
FOX


Sep. 19
at Arizona Cardinals
4:05 PM
FOX


Sep. 26
Seattle Seahawks
4:25 PM
FOX


Oct. 3
Cleveland Browns
1:00 PM
CBS


Oct. 10
Detroit Lions
1:00 PM
FOX


Oct. 17
at Carolina Panthers
1:00 PM
FOX




BYE






Oct. 31
Dallas Cowboys
8:20 PM
NBC*


Nov. 7
at Baltimore Ravens
1:00 PM
FOX


Nov. 14
at Los Angeles Chargers
4:05 PM
FOX


Nov. 21
Green Bay Packers
1:00 PM
FOX


Nov. 28
at San Francisco 49ers
4:25 PM
FOX


Dec. 5
at Detroit Lions
1:00 PM
CBS


Dec. 9
Pittsburgh Steelers (Thu)
8:20 PM
FOX/NFLN/Amazon**


Dec. 20
at Chicago Bears (Mon)
8:15 PM
ESPN


Dec. 26
Los Angeles Rams
1:00 PM
FOX


Jan. 2
at Green Bay Packers
8:20 PM
NBC*


Jan. 9
Chicago Bears
1:00 PM
FOX


New England Patriots
| | | | |
| --- | --- | --- | --- |
| Sep. 12 | Miami Dolphins | 4:25 PM | CBS |
| Sep. 19 | at New York Jets | 1:00 PM | CBS |
| Sep. 26 | New Orleans Saints | 1:00 PM | FOX |
| Oct. 3 | Tampa Bay Buccaneers | 8:20 PM | NBC |
| Oct. 10 | at Houston Texans | 1:00 PM | CBS |
| Oct. 17 | Dallas Cowboys | 4:25 PM | CBS |
| Oct. 24 | New York Jets | 1:00 PM | CBS |
| Oct. 31 | at Los Angeles Chargers | 4:05 PM | CBS |
| Nov. 7 | at Carolina Panthers | 1:00 PM | CBS |
| Nov. 14 | Cleveland Browns | 1:00 PM | CBS |
| Nov. 18 | at Atlanta Falcons (Thu) | 8:20 PM | FOX/NFLN/Amazon** |
| Nov. 28 | Tennessee Titans | 1:00 PM | CBS |
| Dec. 6 | at Buffalo Bills (Mon) | 8:15 PM | ESPN |
| | BYE | | |
| TBD | at Indianapolis Colts | TBD | TBD |
| Dec. 26 | Buffalo Bills | 1:00 PM | CBS |
| Jan. 2 | Jacksonville Jaguars | 1:00 PM | CBS |
| Jan. 9 | at Miami Dolphins | 1:00 PM | CBS |


New Orleans Saints
| | | | |
| --- | --- | --- | --- |
| Sep. 12 | Green Bay Packers | 4:25 PM | FOX |
| Sep. 19 | at Carolina Panthers | 1:00 PM | FOX |
| Sep. 26 | at New England Patriots | 1:00 PM | FOX |
| Oct. 3 | New York Giants | 1:00 PM | FOX |
| Oct. 10 | at Washington Football Team | 1:00 PM | CBS |
| | BYE | | |
| Oct. 25 | at Seattle Seahawks (Mon) | 8:15 PM | ESPN |
| Oct. 31 | Tampa Bay Buccaneers | 4:25 PM | FOX |
| Nov. 7 | Atlanta Falcons | 1:00 PM | FOX |
| Nov. 14 | at Tennessee Titans | 1:00 PM | CBS |
| Nov. 21 | at Philadelphia Eagles | 1:00 PM | FOX |
| Nov. 25 | Buffalo Bills (Thanksgiving) | 8:20 PM | NBC |
| Dec. 2 | Dallas Cowboys (Thu) | 8:20 PM | FOX/NFLN/Amazon** |
| Dec. 12 | at New York Jets | 1:00 PM | FOX |
| Dec. 19 | at Tampa Bay Buccaneers | 8:20 PM | NBC* |
| Dec. 27 | Miami Dolphins (Mon) | 8:15 PM | ESPN |
| Jan. 2 | Carolina Panthers | 1:00 PM | FOX |
| Jan. 9 | at Atlanta Falcons | 1:00 PM | FOX |


New York Giants
| | | | |
| --- | --- | --- | --- |
| Sep. 12 | Denver Broncos | 4:25 PM | FOX |
| Sep. 16 | at Washington Football Team (Thu) | 8:20 PM | NFLN |
| Sep. 26 | Atlanta Falcons | 1:00 PM | FOX |
| Oct. 3 | at New Orleans Saints | 1:00 PM | FOX |
| Oct. 10 | at Dallas Cowboys | 4:25 PM | FOX |
| Oct. 17 | Los Angeles Rams | 1:00 PM | FOX |
| Oct. 24 | Carolina Panthers | 1:00 PM | FOX |
| Nov. 1 | at Kansas City Chiefs (Mon) | 8:15 PM | ESPN |
| Nov. 7 | Las Vegas Raiders | 1:00 PM | CBS |
| | BYE | | |
| Nov. 22 | at Tampa Bay Buccaneers (Mon) | 8:15 PM | ESPN |
| Nov. 28 | Philadelphia Eagles | 1:00 PM | FOX |
| Dec. 5 | at Miami Dolphins | 1:00 PM | FOX |
| Dec. 12 | at Los Angeles Chargers | 4:05 PM | FOX |
| Dec. 19 | Dallas Cowboys | 1:00 PM | FOX |
| Dec. 26 | at Philadelphia Eagles | 1:00 PM | FOX |
| Jan. 2 | at Chicago Bears | 1:00 PM | CBS |
| Jan. 9 | Washington Football Team | 1:00 PM | FOX |


New York Jets
| | | | |
| --- | --- | --- | --- |
| Sep. 12 | at Carolina Panthers | 1:00 PM | CBS |
| Sep. 19 | New England Patriots | 1:00 PM | CBS |
| Sep. 26 | at Denver Broncos | 4:05 PM | CBS |
| Oct. 3 | Tennessee Titans | 1:00 PM | CBS |
| Oct. 10 | at Atlanta Falcons (London) | 9:30 AM | NFLN |
| | BYE | | |
| Oct. 24 | at New England Patriots | 1:00 PM | CBS |
| Oct. 31 | Cincinnati Bengals | 1:00 PM | CBS |
| Nov. 4 | at Indianapolis Colts (Thu) | 8:20 PM | FOX/NFLN/Amazon** |
| Nov. 14 | Buffalo Bills | 1:00 PM | CBS |
| Nov. 21 | Miami Dolphins | 1:00 PM | CBS |
| Nov. 28 | at Houston Texans | 1:00 PM | CBS |
| Dec. 5 | Philadelphia Eagles | 1:00 PM | CBS |
| Dec. 12 | New Orleans Saints | 1:00 PM | FOX |
| TBD | at Miami Dolphins | TBD | TBD |
| Dec. 26 | Jacksonville Jaguars | 1:00 PM | CBS |
| Jan. 2 | Tampa Bay Buccaneers | 1:00 PM | FOX |
| Jan. 9 | at Buffalo Bills | 1:00 PM | CBS |


Philadelphia Eagles
| | | | |
| --- | --- | --- | --- |
| Sep. 12 | at Atlanta Falcons | 1:00 PM | FOX |
| Sep. 19 | San Francisco 49ers | 1:00 PM | FOX |
| Sep. 27 | at Dallas Cowboys (Mon) | 8:15 PM | ESPN |
| Oct. 3 | Kansas City Chiefs | 1:00 PM | CBS |
| Oct. 10 | at Carolina Panthers | 1:00 PM | FOX |
| Oct. 14 | Tampa Bay Buccaneers (Thu) | 8:20 PM | FOX/NFLN/Amazon** |
| Oct. 24 | at Las Vegas Raiders | 4:05 PM | FOX |
| Oct. 31 | at Detroit Lions | 1:00 PM | FOX |
| Nov. 7 | Los Angeles Chargers | 4:05 PM | CBS |
| Nov. 14 | at Denver Broncos | 4:25 PM | CBS |
| Nov. 21 | New Orleans Saints | 1:00 PM | FOX |
| Nov. 28 | at New York Giants | 1:00 PM | FOX |
| Dec. 5 | at New York Jets | 1:00 PM | CBS |
| | BYE | | |
| TBD | Washington Football Team | TBD | TBD |
| Dec. 26 | New York Giants | 1:00 PM | FOX |
| Jan. 2 | at Washington Football Team | 1:00 PM | FOX |
| Jan. 9 | Dallas Cowboys | 1:00 PM | FOX |


Pittsburgh Steelers
Sep. 12
at Buffalo Bills
1:00 PM
CBS


Sep. 19
Las Vegas Raiders
1:00 PM
CBS


Sep. 26
Cincinnati Bengals
1:00 PM
CBS


Oct. 3
at Green Bay Packers
4:25 PM
CBS


Oct. 10
Denver Broncos
1:00 PM
FOX


Oct. 17
Seattle Seahawks
8:20 PM
NBC*




BYE






Oct. 31
at Cleveland Browns
1:00 PM
CBS


Nov. 8
Chicago Bears (Mon)
8:15 PM
ESPN


Nov. 14
Detroit Lions
1:00 PM
FOX


Nov. 21
at Los Angeles Chargers
8:20 PM
NBC*


Nov. 28
at Cincinnati Bengals
1:00 PM
CBS


Dec. 5
Baltimore Ravens
4:25 PM
CBS


Dec. 9
at Minnesota Vikings (Thu)
8:20 PM
FOX/NFLN/Amazon**


Dec. 19
Tennessee Titans
1:00 PM
CBS


Dec. 26
at Kansas City Chiefs
4:25 PM
CBS


Jan. 3
Cleveland Browns (Mon)
8:15 PM
ESPN


Jan. 9
at Baltimore Ravens
1:00 PM
CBS


San Francisco 49ers
| | | | |
| --- | --- | --- | --- |
| Sep. 12 | at Detroit Lions | 1 PM | FOX |
| Sep. 19 | at Philadelphia Eagles | 1 PM | FOX |
| Sep. 26 | Green Bay Packers | 8:20 PM | NBC |
| Oct. 3 | Seattle Seahawks | 4:05 PM | FOX |
| Oct. 10 | at Arizona Cardinals | 4:25 PM | FOX |
| | BYE | | |
| Oct. 24 | Indianapolis Colts | 8:20 PM | NBC* |
| Oct. 31 | at Chicago Bears | 1 PM | FOX |
| Nov. 7 | Arizona Cardinals | 4:25 PM | FOX |
| Nov. 15 | Los Angeles Rams (Mon) | 8:15 PM | ESPN |
| Nov. 21 | at Jacksonville Jaguars | 1 PM | FOX |
| Nov. 28 | Minnesota Vikings | 4:25 PM | FOX |
| Dec. 5 | at Seattle Seahawks | 8:20 PM | NBC* |
| Dec. 12 | at Cincinnati Bengals | 1 PM | CBS |
| Dec. 19 | Atlanta Falcons | 4:05 PM | CBS |
| Dec. 23 | at Tennessee Titans (Thu) | 8:20 PM | NFLN |
| Jan. 2 | Houston Texans | 4:05 PM | CBS |
| Jan. 9 | at Los Angeles Rams | 4:25 PM | FOX |


Seattle Seahawks
| | | | |
| --- | --- | --- | --- |
| Sep. 12 | at Indianapolis Colts | 1 PM | FOX |
| Sep. 19 | Tennessee Titans | 4:25 PM | CBS |
| Sep. 26 | at Minnesota Vikings | 4:25 PM | FOX |
| Oct. 3 | at San Francisco 49ers | 4:05 PM | FOX |
| Oct. 7 | Los Angeles Rams (Thu) | 8:20 PM | FOX/NFLN/Amazon** |
| Oct. 17 | at Pittsburgh Steelers | 8:20 PM | NBC* |
| Oct. 25 | New Orleans Saints (Mon) | 8:15 PM | ESPN |
| 4Oct. 31 | Jacksonville Jaguars | 1:05 PM | CBS |
| | BYE | | |
| Nov. 14 | at Green Bay Packers | 4:25 PM | CBS |
| Nov. 21 | Arizona Cardinals | 4:25 PM | FOX |
| Nov. 29 | at Washington Football Team (Mon) | 8:15 PM | ESPN |
| Dec. 5 | San Francisco 49ers | 8:20 PM | NBC* |
| Dec. 12 | at Houston Texans | 1 PM | FOX |
| Dec. 19 | at Los Angeles Rams | 4:25 PM | FOX |
| Dec. 26 | Chicago Bears | 4:05 PM | FOX |
| Jan. 2 | Detroit Lions | 4:25 PM | FOX |
| Jan. 9 | at Arizona Cardinals | 4:25 PM | FOX |


Tampa Bay Buccaneers
| | | | |
| --- | --- | --- | --- |
| Sep. 9 | Dallas Cowboys (Thu) | 8:20 PM | NBC |
| Sep. 19 | Atlanta Falcons | 4:05 PM | FOX |
| Sep. 26 | at Los Angeles Rams | 4:25 PM | FOX |
| Oct. 3 | at New England Patriots | 8:20 PM | NBC |
| Oct. 10 | Miami Dolphins | 1:00 PM | CBS |
| Oct. 14 | at Philadelphia Eagles (Thu) | 8:20 PM | FOX/NFLN/Amazon** |
| Oct. 24 | Chicago Bears | 4:25 PM | CBS |
| Oct. 31 | at New Orleans Saints | 4:25 PM | FOX |
| | BYE | | |
| Nov. 14 | at Washington Football Team | 1:00 PM | FOX |
| Nov. 22 | New York Giants (Mon) | 8:15 PM | ESPN |
| Nov. 28 | at Indianapolis Colts | 1:00 PM | FOX |
| Dec. 5 | at Atlanta Falcons | 1:00 PM | FOX |
| Dec. 12 | Buffalo Bills | 4:25 PM | CBS |
| Dec. 19 | New Orleans Saints | 8:20 PM | NBC* |
| Dec. 26 | at Carolina Panthers | 1:00 PM | FOX |
| Jan. 2 | at New York Jets | 1:00 PM | FOX |
| Jan. 9 | Carolina Panthers | 1:00 PM | FOX |


Tennessee Titans
| | | | |
| --- | --- | --- | --- |
| Sep. 12 | Arizona Cardinals | 1:00 PM | CBS |
| Sep. 19 | at Seattle Seahawks | 4:25 PM | CBS |
| Sep. 26 | Indianapolis Colts | 1:00 PM | CBS |
| Oct. 3 | at New York Jets | 1:00 PM | CBS |
| Oct. 10 | at Jacksonville Jaguars | 1:00 PM | CBS |
| Oct. 18 | Buffalo Bills (Mon) | 8:15 PM | ESPN |
| Oct. 24 | Kansas City Chiefs | 1:00 PM | CBS |
| Oct. 31 | at Indianapolis Colts | 1:00 PM | CBS |
| Nov. 7 | at Los Angeles Rams | 8:20 PM | NBC* |
| Nov. 14 | New Orleans Saints | 1:00 PM | CBS |
| Nov. 21 | Houston Texans | 1:00 PM | CBS |
| Nov. 28 | at New England Patriots | 1:00 PM | CBS |
| | BYE | | |
| Dec. 12 | Jacksonville Jaguars | 1:00 PM | CBS |
| Dec. 19 | at Pittsburgh Steelers | 1:00 PM | CBS |
| Dec. 23 | San Francisco 49ers (Thu) | 8:20 PM | NFLN |
| Jan. 2 | Miami Dolphins | 1:00 PM | CBS |
| Jan. 9 | at Houston Texans | 1:00 PM | CBS |


Washington Football Team
| | | | |
| --- | --- | --- | --- |
| Sep. 12 | Los Angeles Chargers | 1:00 PM | CBS |
| Sep. 16 | New York Giants (Thu) | 8:20 PM | NFLN |
| Sep. 26 | at Buffalo Bills | 1:00 PM | FOX |
| Oct. 3 | at Atlanta Falcons | 1:00 PM | FOX |
| Oct. 10 | New Orleans Saints | 1:00 PM | CBS |
| Oct. 17 | Kansas City Chiefs | 1:00 PM | CBS |
| Oct. 24 | at Green Bay Packers | 1:00 PM | FOX |
| Oct. 31 | at Denver Broncos | 4:25 PM | FOX |
| | BYE | | |
| Nov. 14 | Tampa Bay Buccaneers | 1:00 PM | FOX |
| Nov. 21 | at Carolina Panthers | 1:00 PM | FOX |
| Nov. 29 | Seattle Seahawks (Mon) | 8:15 PM | ESPN |
| Dec. 5 | at Las Vegas Raiders | 4:05 PM | FOX |
| Dec. 12 | Dallas Cowboys | 1:00 PM | FOX |
| Dec. 19 | at Philadelphia Eagles | TBD | TBD |
| Dec. 26 | at Dallas Cowboys | 8:20 PM | NBC* |
| Jan. 2 | Philadelphia Eagles | 1:00 PM | FOX |
| Jan. 9 | at New York Giants | 1:00 PM | FOX |