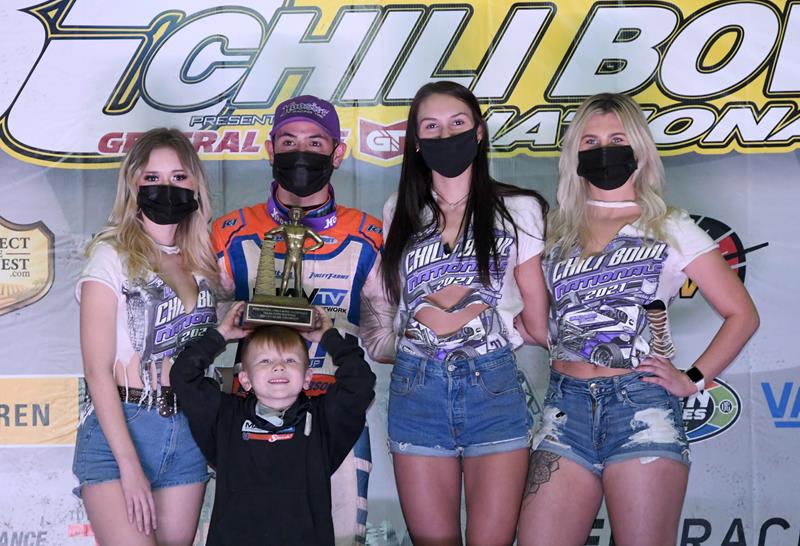 All-Time Chili Bowl Nationals Past Winners List: Larson 2nd time 2021 champions
.
The Lucas Oil Chili Bowl Midget Nationals is an indoor midget car racing event held annually. It takes place on a 1/4 mile dirt track at the Tulsa Expo Center in January, two weeks after Christmas.
NASCAR calls it the "biggest Midget race of the year". It is nicknamed the "Super Bowl of midget racing".
The
Chili Bowl Midget Nationals
race was organized by "Santa" mean Emmett Hahn and Lanny Edwards since the first Chili Bowl race has been held in 1987 & 1st Winner is Rich Vogler.
The week-long event boasts five days of practice and qualifying events to set the 24-car field for the main event
It took
13-years for Kyle Larson to win the 35th Lucas Oil Chili Bowl Nationals
presented by General Tire, but it only took one to add a second Golden Driller to his trophy case as the California shoe led start to finish in Saturday's 55-lap championship event.
Larson had to fend off the charge of Justin Grant numerous times and Christopher Bell in the closing laps.
The
2021 Chili Bowl Rookie of the Year
was Oklahoma's Daison Pursley with a 10th place finish in the first Dave.com B-Feature.
Lucas Oil Chili Bowl Nationals presented by General Tire Tulsa Expo Raceway (Tulsa, Okla.) Saturday, January 16, 2021
Coming-UP: The 36th annual Lucas Oil Chili Bowl Nationals 2022 presented by General Tire takes place January 10-15, 2022, at the Tulsa Expo Raceway, located inside the River Spirit Expo Center in Tulsa, Okla.
Kyle Larson wins 2nd straight title of 2021 Chili Bowl.
List of full Chilli Bowl Midget Nationals Winners, Past champions List 1978- 2021.
The A-Main feature is a 55 lap event (the A-main was previously a 50 lap event but was changed in 2012, in honor of fallen driver Donnie Ray Crawford).

Drivers with multiple wins include five-time winner Sammy Swindell, Sammy's son Kevin Swindell with four wins, three-time winner Christopher Bell, and two-time winners Dan Boorse, Tony Stewart, Cory Kruseman and Rico Abreu.

The winning driver wins a trophy dubbed the "Golden Driller" after the 76-foot (23 m) statue outside the building.
A complete Chili Bowl Midget Nationals Past Winners-Champions List by Year Since 1987-2021.
Year - Winners
2023 - champion
2022 - winner
2021 - Kyle Larson
2020 - Kyle Larson
2019 - Christopher Bell
2018 - Christopher Bell
2017 - Christopher Bell
2016 - Rico Abreu
2015 - Rico Abreu
2014 - Bryan Clauson
2013 - Kevin Swindell
2012 - Kevin Swindell
2011 - Kevin Swindell
2010 - Kevin Swindell
2009 - Sammy Swindell
2008 - Damion Gardner
2007 - Tony Stewart
2006 - Tim McCreadie
2005 - Tracy Hines
2004 - Cory Kruseman
2003 - Dan Boorse
2002 - Tony Stewart
2001 - Jay Drake
2000 - Cory Kruseman
1999 - Dan Boorse
1998 - Sammy Swindell
1997 - Billy Boat
1996 - Sammy Swindell
1995 - Donnie Beechler
1994 - Andy Hillenburg
1993 - Dave Blaney
1992 - Sammy Swindell
1991 - L. McSpadden
1990 - John Heydenreich
1989 - Sammy Swindell
1988 - Scott Hatton
1987 - Rich Vogler