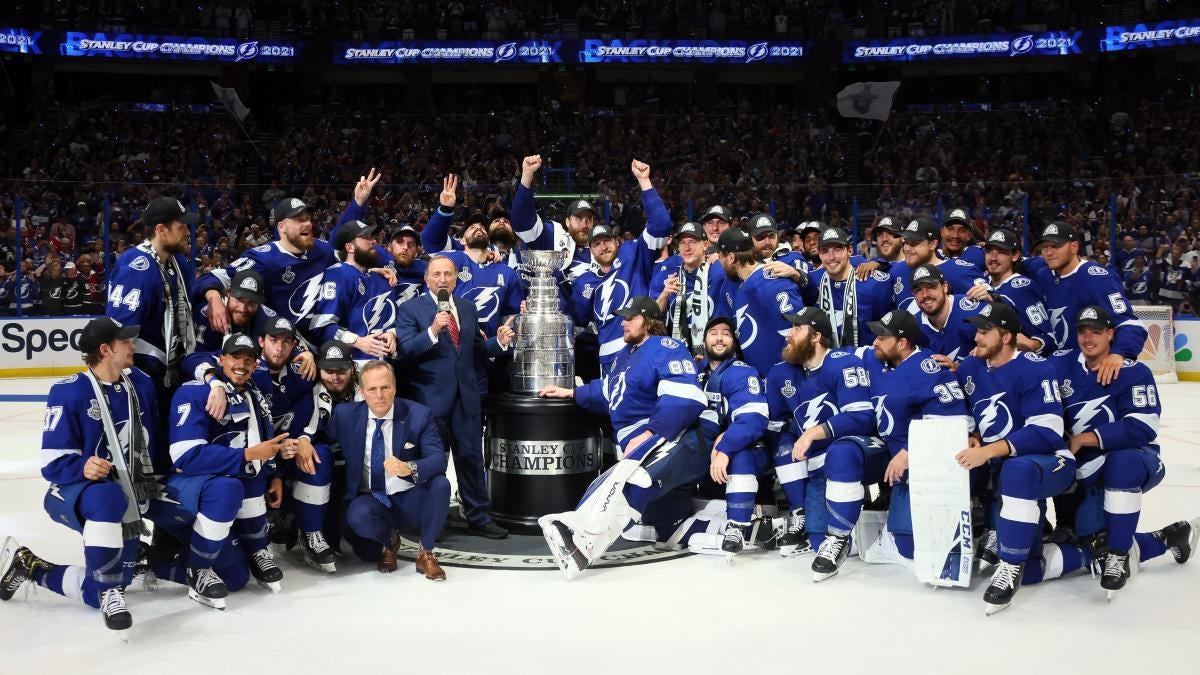 NHL Stanley Cup Finals champions: All-Time Winners, runners-up, history since 1927
.
Montreal Canadiens team have won the Most titles of Stanley Cup are 24th times, followed by Toronto Maple Leafs 13th times, Detroit Red Wings won the title 11th times of Stanley Cup Finals.

Lightning is the defending champions of 2020 Stanley Cup they won the title to defeating the Dallas Stars in Cup Finals with series win 4 -2.
The Tampa Bay
Lightning won the Stanley Cup, champions for the second straight season in 2021 with a 1-0 victory against the Montreal
Canadiens in Game 5 of the Final at Amalie Arena.
Tampa Bay is the ninth team to repeat as Stanley Cup champions, the first since the Pittsburgh Penguins in 2016 and 2017.
The Lightning are the first NHL team to clinch a Stanley Cup title at home since the Chicago Blackhawks did it in 2015 against Tampa Bay.
Brief History of NHL Stanley Cup Playoff Finals.
Stanley Cup is a trophy held annually to the Playoff club champion of National Hockey League (
NHL
) ice hockey.
It is donated by the G. General of Canada Lord Stanley in 1892 & first Stanley Cup was held in 1893 final finished-
won
first by Montreal hockey club.
It is oldest professional sports trophy in North America.
In 1913 two major ice hockey org. National Hockey Association (NHA) & Pacific Coast Hockey Association (PCHA) in an agreement to reach the series of Stanley Cup.
Its name was changed "de facto champion trophy" of NHL in 1926.
Originally there are 3 Stanley cups have been till now the first one is "Dominion Hockey Challenge Cup" " Presentation cup" " Replica Cup".
From 1914 to 2016 the trophy has been won 98 times.
Overall winning teams of Stanley Cup is 23, 18 teams still active in NHL.
Blackhawks won the 6 Stanley cup since 1926.
Two time in NHL history the trophy was held one in 1919 Spanish flu epidemic 2nd in 2005 due to NHL lockout.
Capitals are the last champions of 2018 Stanley Cup they won the title to defeating the Golden Knights, that was their first ever victory in the NHL Franchise history.
NHL Stanley Cup Champions, Past Winners List from 1927-2021.
Here is the full list of NHL Stanley Cup Finals Champion Winners-losers & also sort out past-last 10 years champions in 2000s, it is winning teams & by year & seed List & also series winning scores, results from 1927-2021.
2021 Cup Final – Tampa Bay Lightning def. Montreal Canadiens 4 - 1 ...
2020 – Tampa Bay Lightning def. Dallas Stars 4–2 .
2019 – St. Louis Blues def. Boston Bruins 4 – 3
2018 – Washington Capitals defeated the Golden Knights 4–1
2017 – Pittsburgh Penguins Defeated the Nashville Predators 4–2
2016 – Pittsburgh Penguins Defeated the San Jose Sharks 4–2
2015 – Chicago Blackhawks Defeated the Tampa Bay Lightning 4–2
2014 – Los Angeles Kings Defeated the New York Rangers 4–1
2013 – Chicago Blackhawks Defeated the Boston Bruins 4–2
2012 – Los Angeles Kings Defeated the New Jersey Devils 4–2
2011 – Boston Bruins Defeated the Vancouver Canucks 4–3
2010 – Chicago Blackhawks Defeated the Philadelphia Flyers 4–2
___________________________________________________________________________________
2009 – Pittsburgh Penguins Defeated the Detroit Red Wings 4–3
2008 – Detroit Red Wings Defeated the Pittsburgh Penguins 4–2
2007 – Anaheim Ducks Defeated the Ottawa Senators 4–1
2006 – Carolina Hurricanes Defeated the Edmonton Oilers 4–3
2005 – Season was cancelled due to the 2004–05 NHL lockout
2004 – Tampa Bay Lightning Defeated the Calgary Flames 4–3
2003 – New Jersey Devils Defeated the Mighty Ducks of Anaheim 4–3
2002 – Detroit Red Wings Defeated the Carolina Hurricanes 4–1
2001 – Colorado Avalanche Defeated the New Jersey Devils 4–3
2000 – New Jersey Devils Defeated the Dallas Stars 4–2
____________________________________________________________________________________
1999 – Dallas Stars Defeated the Buffalo Sabres 4–2
1998 – Detroit Red Wings Defeated the Washington Capitals 4–0
1997 – Detroit Red Wings Defeated the Philadelphia Flyers 4–0
1996 – Colorado Avalanche Defeated the Florida Panthers 4–0
1995 – New Jersey Devils Defeated the Detroit Red Wings 4–0
1994 – New York Rangers Defeated the Vancouver Canucks 4–3
1993 – Montreal Canadiens Defeated the Los Angeles Kings 4–1
1992 – Pittsburgh Penguins Defeated the Chicago Blackhawks 4–0
1991 – Pittsburgh Penguins Defeated the Minnesota North Stars 4–2
1990 – Edmonton Oilers Defeated the Boston Bruins 4–1
____________________________________________________________________________________
1989 – Calgary Flames Defeated the Montreal Canadiens 4–2
1988 – Edmonton Oilers Defeated the Boston Bruins 4–0
1987 – Edmonton Oilers Defeated the Philadelphia Flyers 4–3
1986 – Montreal Canadiens Defeated the Calgary Flames 4–1
1985 – Edmonton Oilers Defeated the Philadelphia Flyers 4–1
1984 – Edmonton Oilers Defeated the New York Islanders 4–1
1983 – New York Islanders Defeated the Edmonton Oilers 4–0
1982 – New York Islanders Defeated the Vancouver Canucks 4–0
1981 – New York Islanders Defeated the Minnesota North Stars 4–1
1980 – New York Islanders Defeated the Philadelphia Flyers 4–2
_____________________________________________________________________________________
1979 – Montreal Canadiens Defeated the New York Rangers 4–1
1978 – Montreal Canadiens Defeated the Boston Bruins 4–2
1977 – Montreal Canadiens Defeated the Boston Bruins 4–0
1976 – Montreal Canadiens Defeated the Philadelphia Flyers 4–0
1975 – Philadelphia Flyers Defeated the Buffalo Sabres 4–2
1974 – Philadelphia Flyers Defeated the Boston Bruins 4–2
1973 – Montreal Canadiens Defeated the Chicago Black Hawks 4–2
1972 – Boston Bruins Defeated the New York Rangers 4–2
1971 – Montreal Canadiens Defeated the Chicago Black Hawks 4–3
1970 – Boston Bruins Defeated the St. Louis Blues 4–0
______________________________________________________________________________________
1969 – Montreal Canadiens Defeated the St. Louis Blues 4–0
1968 – Montreal Canadiens Defeated the St. Louis Blues 4–0
1967 – Toronto Maple Leafs Defeated the Montreal Canadiens 4–2
1966 – Montreal Canadiens Defeated the Detroit Red Wings 4–2
1965 – Montreal Canadiens Defeated the Chicago Black Hawks 4–3
1964 – Toronto Maple Leafs Defeated the Detroit Red Wings 4–3
1963 – Toronto Maple Leafs Defeated the Detroit Red Wings 4–1
1962 – Toronto Maple Leafs Defeated the Chicago Black Hawks 4–2
1961 – Chicago Black Hawks Defeated the Detroit Red Wings 4–2
1960 – Montreal Canadian Defeated the Toronto Maple Leafs 4–0
_______________________________________________________________________________________
1959 – Montreal Canadians Defeated the Toronto Maple Leafs 4–1
1958 – Montreal Canadiens Defeated the Boston Bruins 4–2
1957 – Montreal Canadiens Defeated the Boston Bruins 4–1
1956 – Montreal Canadiens Defeated the Detroit Red Wings 4–1
1955 – Detroit Red Wings Defeated the Montreal Canadiens 4–3
1954 – Detroit Red Wings Defeated the Montreal Canadiens 4–3
1953 – Montreal Canadiens Defeated the Boston Bruins 4–1
1952 – Detroit Red Wings Defeated the Montreal Canadiens 4–0
1951 – Toronto Maple Leafs Defeated the Montreal Canadiens 4–1
1950 – Detroit Red Wings Defeated the New York Rangers 4–3
_____________________________________________________________________________________
1949 – Toronto Maple Leafs Defeated the Detroit Red Wings 4–0
1948 – Toronto Maple Leafs Defeated the Detroit Red Wings 4–0
1947 – Toronto Maple Leafs Defeated the Montreal Canadiens 4–2
1946 – Montreal Canadiens Defeated the Boston Bruins 4–1
1945 – Toronto Maple Leafs Defeated the Detroit Red Wings 4–3
1944 – Montreal Canadiens Defeated the Chicago Black Hawks 4–0
1943 – Detroit Red Wings Defeated the Boston Bruins 4–0
1942 – Toronto Maple Leafs Defeated the Detroit Red Wings 4–3
1941 – Boston Bruins Defeated the Detroit Red Wings 4–0
1940 – New York Rangers Defeated the Toronto Maple Leafs 4–2
_____________________________________________________________________________________
1939 – Boston Bruins Defeated the Toronto Maple Leafs 4–1
1938 – Chicago Black Hawks Defeated the Toronto Maple Leafs 3–1
1937 – Detroit Red Wings Defeated the New York Rangers 3–2
1936 – Detroit Red Wings Defeated the Toronto Maple Leafs 3–1
1935 – Montreal Maroons Defeated the Toronto Maple Leafs 3–0
1934 – Chicago Black Hawks Defeated the Detroit Red Wings 3–1
1933 – New York Rangers Defeated the Toronto Maple Leafs 3–1
1932 – Toronto Maple Leafs Defeated the New York Rangers 3–0
1931 – Montreal Canadiens Defeated the Chicago Black Hawks 3–2
1930 – Montreal Canadiens Defeated the Boston Bruins 2–0
______________________________________________________________________________________
1929 – Boston Bruins Defeated the New York Rangers 2–0
1928 – New York Rangers Defeated the Montreal Maroons 3–2
1927 – Ottawa Senators Defeated the Boston Bruins 2–0–2
__________________________________________________________________________________


NHA/NHL -- WCHL/WHL Champions from 1915-1926
__________________________________________________________________________________
1926 _ Montreal Maroons defeated the Victoria Cougars 3-1
1925 _ Victoria Cougars defeated the Montreal Canadiens 3-1
1924 _ Montreal Canadiens defeated the Calgary Tigers 2-0
1923 _ Ottawa Senators defeated the Edmonton Eskimos 2-0
1922 _ Toronto St. Pats defeated the Vancouver Millionaires 3-2
1921 _ Ottawa Senators defeated the Vancouver Millionaires 3-2
1920 _ Ottawa Senators defeated the Seattle Metropolitans 3-2
1919 _ Not Held due to Spanish Flu epidemic
1918 _ Toronto Arenas defeated the Vancouver Millionaires 3-2
1917 _ Seattle Metropolitans defeated the Montreal Canadiens 3-1
1916 _ Montreal Canadiens defeated the Portland Rosebuds 3-2
1915 _ Vancouver Millionaires defeated the Ottawa Senators 3-0