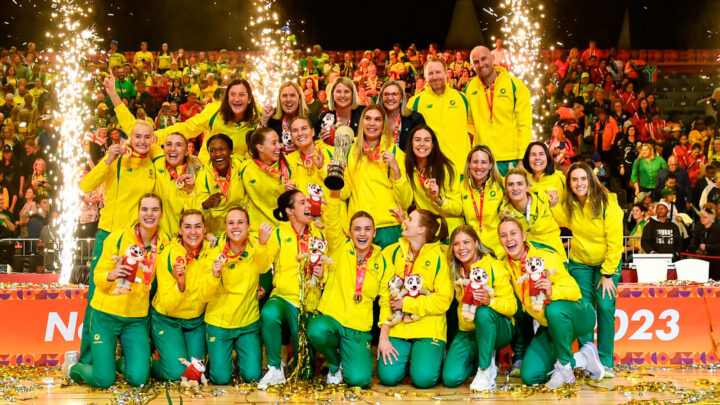 Netball World Cup 2023 Schedule, Teams Fixtures List, Dates Kick-off times, How to Watch, TV channel, Results






England succumbed to a dominant Australia, who secured a resounding 61-45 win, as the

Diamonds retain their crown and win the Netball World Cup for the 12th time.



England's path to the final had been commendable, with notable victories against Australia in the group stage and a semi-final triumph over New Zealand.

However, their dreams of lifting the coveted trophy were thwarted as they settled for a silver medal in Cape Town. Nevertheless, this achievement matched the nation's previous best result at the tournament, achieved in 1975 during a round-robin event.



For the upcoming tournament of Netball World Cup for 2023 edition draw took place on 30th November 2022, at the East London Convention Centre, South Africa, Officials has confirmed the Sixteen Teams among four pools for the first stage of the tournament.



England and Scotland will face each other in the group B matches of the 2023 Netball World Cup in South Africa.

They are joined in Group B by Malawi and Barbados, while Wales meet hosts South Africa, Jamaica and Sri Lanka in Group C.

Eleven-time world champions Australia are grouped in pool A with Tonga, Zimbabwe, and Fiji.

In the fourth Group D, Reigning Netball World Cup champions New Zealand will face off against Uganda, Trinidad and Tobago and Singapore as they will seek to retain their crown again.


Official Netball World Cup Hashtag - #NWC2023




When is the Netball World Cup 2023.?

The 2023 Netball World Cup will take place in Cape Town from 28 July – 6 August 2023 in South Africa.

The first stage of the Netball World Cup will kick-off on 28th July 2023 with the teams competing in a round robin format in the pools as outlined above.




How can I watch 2023 Netball World Cup.?

All 60 matches will be broadcast Live by both SuperSport and SABC. ALSO Next summer's tournament will be held in South Africa.

Sky Sports will show every match of the 2023 Netball World Cup live, with one game per day available on the Sky Sports YouTube channel.



Netball World Cup 2023 Draw in full, Pools, Team Groups for South Africa Showpiece.



Group A: Australia, Tonga, Zimbabwe, Fiji

Group B: England, Malawi, Scotland, Barbados

Group C: South Africa, Jamaica, Wales, Sri Lanka

Group D: New Zealand, Uganda, Trinidad and Tobago, Singapore



More:

List of Net World Cup Winners by Year, Past Champions, History 1963-2023.






Netball World Cup 2023 Full Schedule dates, fixtures kick-off times, winner results.



The Official schedule for the upcoming 2023 Netball World Cup has been announced..
The action kicks off in Cape Town on Friday morning with New Zealand facing off against Trinidad & Tobago...



All Kick-off in UK times, BST.
Stage 1 Fixtures
Friday 28th July
New Zealand 76 - 27 Trinidad & Tobago / Tonga 55 - 51 Fiji (8am)
Australia 80 - 30 Zimbabwe / Uganda 73 - 35 Singapore (10am)
South Africa 61- 50 Wales / Jamaica 105-25 Sri Lanka (5pm)
England 90 - 29 Barbados / Malawi 55-49 Scotland (7pm)




Saturday 29th July
New Zealand 54-44 Uganda / Zimbabwe 48-52 Fiji (8am)
Australia 85-38 Tonga / Jamaica 75-40 Wales (10am)
Scotland 0-0 Barbados / South Africa 0-0 Sri Lanka (5pm)
England 62-39 Malawi / Trinidad & Tobago 49-36 Singapore (7pm)
Sunday 30th July

Australia 101 - 32 Fiji --- Wales 68 - 56 Sri Lanka

Malawi 84 - 48 Barbados --- New Zealand 80 - 19 Singapore

England 62 - 37 Scotland --- Uganda 74 - 34 Trinidad and Tobago

Jamaica 67 - 49 South Africa --- Tonga 55 - 46 Zimbabwe


Stage 2 fixtures
Stage 2 To be played between Monday 31st July and Friday 4th August.



Monday 31st July


Australia 76 - 37 Scotland -- Zimbabwe 45 - 62 Barbados

Fiji 48 - 62 Malawi -- Wales 34 - 83 New Zealand

Jamaica 61 - 49 Uganda -- Sri Lanka 52 - 55 Singapore

South Africa 69 - 28 Trinidad and Tobago -- Tonga 46 - 72 England



Tuesday 1st August







Fiji 28 - 89 England




Zimbabwe 71 - 36 Sri Lanka




Tonga 55 - 47 Scotland




Australia 70 - 46 Malawi




Barbados 55 - 50 Singapore



Wednesday 2nd August


Zimbabwe 68 - 40 Singapore

Wales 56 - 73 Uganda

Jamaica 89 - 26 Trinidad and Tobago

South Africa 48 - 48 New Zealand

Sri Lanka 60 - 56 Barbados



Thursday 3rd August


Australia 55 56 England

Wales 70 - 55 Trinidad and Tobago

Fiji 46 - 62 Scotland

Jamaica 59 - 48 New Zealand

South Africa 52 - 50 Uganda

Tonga 51 - 56 Malawi



Friday, 4th August
Singapore

49

46

Sri Lanka
Stage 3 Fixtures
Saturday 5th August
Fiji

71 -

37 Trinidad and Tobago - 11th/12th placing match
England

46 -

40 New Zealand

- Semi-Final 1
Jamaica 50 -
57 Australia
- Semi-Final 2
Scotland
0 - 0 Wales
- 9th/10th placing match (5pm)
Sunday 6th August
Malawi 64 - 54 Tonga -- 7th/8th placing match
Uganda

49 - 47 South Africa -- 5th/6th placing match
New Zealand 45 - 52 Jamaica -- Bronze medal match