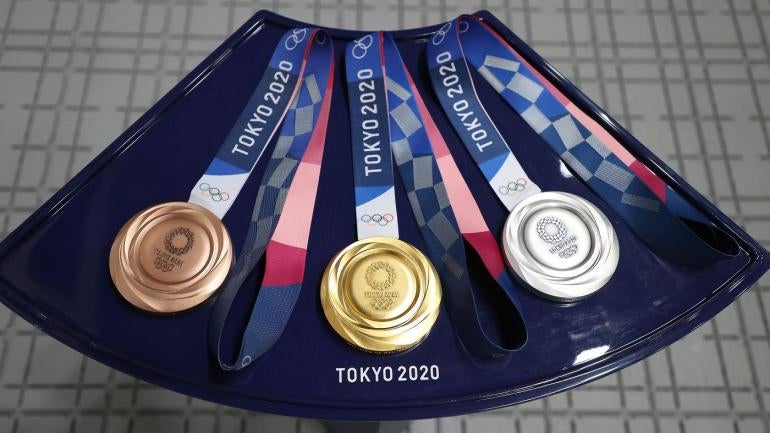 Who won the Medal in which Sports & Games.? Tokyo 2021 Olympics Medal counts...
The Tokyo Olympics are here. Starting on Friday after the Opening Ceremonies, events will be underway, and that means medals are going to start being handed out.
Below is a list of all the medals won during the 2020 Summer Olympics. In total, 339 medals will be awarded across 33 sports.
The record for the most gold medals won at a single Olympics is 83, which the United States achieved at the 1984 Summer Games. Will history be made in Tokyo?
Team USA medal tracker: Each U.S. athlete medal counts at the Tokyo 2021 Olympics.
Medals table tracker of Tokyo 2021 Olympics, medal counts list by country.
Medal Table of Tokyo 2020 Olympics


Gold

Silver

Bronze

Total

1

China

36
26
17
79

2

Japan

24
11
16
31

3

South Korea

6
4
9
19

4

Sweden

2

5

0

7

5

Ecuador

2

1

0

3

6

Kosovo

2

0

0

2

7

Hungary

5

7

5

17

8

Thailand

1

0

1

2

9

Russian Olympic Comm-ROC

17
23
22
62

10

Serbia

2

1

4

7

11

Netherlands
9
10
12
31

12

Belgium

3

1

1

5

13

Croatia

3

3

2

8

14

Chinese Taipei

2

4

6

12

15

Romania

1

3

0

4

16

Italy

10
10
18
38

17

Spain

3

5

5

13

18

Switzerland

3

4

6

13

19

S

lovenia

3

1

1

5

20

Indonesia

1

1

3

5

21

Kazakhstan

0

0

7

7

22

France

7
11
9
21

23

Ukraine

1

3

10

14

24

Mongolia

0

1

3

4

25

Estonia

1

0

1

2

26

Israel

1

0

2

3

27

USA

31
36
31
98

28

Great Britain

18
20
20
58

29

Colombia

0

4

1

5

30

Germany

9
11
16
36
31

Australia
17
6
21
44

32

Brazil

4

4

8

16

33

Latvia

1

0

0

1

34

Jamaica

4

1

3

8

35

North Macedonia

0

1

0

1

36

Cuba

6

3

4

13

37

New Zealand

7
6
6
19

38

Canada

5
6
10
21

39

Uzbekistan

2

0

2

4

40

Colombia

0

1

0

1

41

India

0

2

3

5

42

Argentina

0

1

1

2

43

Denmark

2

3

4

9

44

Hong Kong

1

2

2

5

45

South Africa

1

2

0

3

46

Poland

4

4

4

12

47

Austria

1

1

5

7

48

S

lovakia

1

2

0

3

49

Georgia

2

5

1

8

50

Turkmenistan

0

1

0

1

51

Bermuda

1

0

0

1

52

Turkey

1

1

8

10

53

Finland

0

0

2

2

54

Czech

Republic

4

3

2

9

55

Portugal

0

1

1

2

56

Ethiopia

1

1

1

3

57

Greece

2

0

1

3

58

Uganda

2

1

1

4

59

Ivory Coast

0

0

1

1

60

San Marino

0

1

2

3

61

Azerbaijan

0

1

3

4

62

Latvia

1

0

1

2

63

Jordan

0

1

1

2

64

Belarus

1

2

2

5

65

Fiji

1

0

1

2

66

Dominica

0

3

1

4

67

Mexico

0

0

4

4

68

Malaysia

0

0

1

1

69

Ireland

1

0

2

3

70

Iran

2

2

2

6

71

Bahamas

2

0

0

2

72

Venezuela

1

3

0

4

73

Romania

1

3

0

4

74

Slovenia

2

1

1

4

75

Qatar

2

0

0

2

76

Philippines

1

1

1

3

77

Kenya

2

2

2

6

78

Norway

2

2

1

5

79

Tunisia

1

1

0

2

80

Egypt

0

0

4

4

81

Bulgaria

1

1

2

4

82

Morocco

1

0

0

1

83

Armenia

0

2

2

4

84

Portugal

1

1

2

4

85

Puerto Rico

1

0

0

1

86

Kyrgyzstan

0

2

1

3

87

Nigeria

0

1

1

2

88

Lithuania

0

1

0

1

89

Namibia

0

1

0

1

90

Burkina Faso

0

0

1

1

91

Ghana

0

0

1

1

92

Grenada

0

0

1

1

93

Kuwait

0

0

1

1

94

Syria

0

0

1

1

95

xx

0

0

0

0

90

xx

0

0

0

0