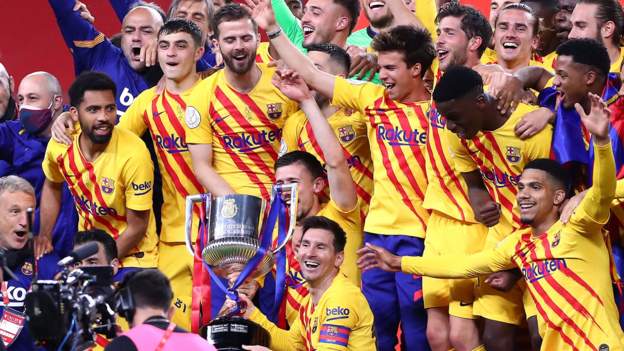 Copa del Rey Cup champions: All-time winners List, full table Since 1903.
The most successful club team of
Copa del Rey
is the FC Barcelona winning the title 31th times & Athletic Bilbao won the title 23rd times in Copa La history.
A dominant performance (4-0) with two goals from Leo Messi and one each from Griezmann and De Jong conquer the cup for an incredible 31st time.


FC Barcelona have won the 2021 Copa del Rey… Again! That's 31 titles now, a record, including five of the last seven editions. Following a first half in which the goal just didn't want to come despite Barça's immense superiority over Athletic (who have now lost two finals of the same competition in the space of a fortnight). Full Report.


Copa del Rey, most title wins, brief history, champions, Stats-Facts .
Copa del Rey is the annual football tournament of

club teams of

Spanish football.

Its Original name is

Campeonato de España - Copa de Su Majestad el Rey de Fútbol. It is formally known as La Copa.
The tournament of Copa del Rey

was held in 1903 as it is the oldest Spanish football unit. In the first competition La Copa in 1902 the

Club Bizcaya

beat the

Barcelona

.
Copa del Rey Officially organized in 1903 for the 1st in which Athletic Bilbao

3-2

Real Madrid

.

FC Barcelona is the Most Successful Club that has won the most Copa del Rey titles 31th times,

while runners-up 10th in history

.
Athletic Bilbao

have won the most Copa del Rey titles 23th times runners-up 14th times.

Real Madrid

has won the most Copa del Rey titles 19th times runners-up 20th time.
Leading Top Goal scorer in Copa del Rey is Telmo Zarra (Athletic Bilbao

) 81 goals (1939-57).
Real Sociedad won the Copa del Rey in 2020. Real Sociedad beat Athletic Bilbao 1-0 in the final played at the Estadio La Cartuja in Seville, Spain..
All-Time Copa del Rey Winners list – all finals Past champions, runners-up 1903-2021!
Lista final de campeones de la Copa del Rey.
Here is the full detailed list of Copa del Rey final champions-winners, Runner-up, and complete results list since 1903 -2021.
Season

Winner

Runner-up

Score

2022-23

xx

xx

0-0

2021-22

xx

xx

0-0

2020-21

FC Barcelona

Athletic Bilbao

4-0

2019-20

Real Sociedad

Athletic Bilbao

1-0

2018-19

Valencia

FC Barcelona

2-1

2017-18

FC Barcelona

Sevilla

5-0

2016-17

FC Barcelona

Alaves

3-1

2015-16

FC Barcelona

Sevilla

2-0 (a.e.t.)

2014-15

FC Barcelona

Athletic Bilbao

3-1

2013-14

Real Madrid

FC Barcelona

2-1

2012-13

Atlético Madrid

Real Madrid

2-1 (a.e.t.)

2011-12

FC Barcelona

Athletic Bilbao

3-0

2010-11

Real Madrid

FC Barcelona

1-0 (a.e.t.)

2009-10

Sevilla

Atlético Madrid

2-0

2008-09

FC Barcelona

Athletic Bilbao

4-1

2007-08

Valencia

Getafe

3-1

2006-07

Sevilla

Getafe

1-0

2005-06

Espanyol

Zaragoza

4-1

2004-05

Betis

Osasuna

2-1 (a.e.t.)

2003-04

Zaragoza

Real Madrid

3-2 (a.e.t.)

2002-03

Mallorca

Recreativo

3-0

2001-02

Deportivo La Coruña

Real Madrid

2-1

2000-01

Zaragoza

Celta de Vigo

3-1

1999-20

RCD Espanyol

Atlético Madrid

2-1

1998-99

Valencia

Atlético Madrid

3-0

1997-98

FC Barcelona

Mallorca

1-1 (5-4 pen.)

1996-97

FC Barcelona

Betis

3-2 (a.e.t.)

1995-96

Atlético Madrid

FC Barcelona

1-0 (a.e.t.)

1994-95

Deportivo La Coruña

Valencia

2-1

1993-94

Zaragoza

Celta de Vigo

0-0 (5-4 pen.)

1992-93

Real Madrid

Zaragoza

2-0

1991-92

Atlético Madrid

Real Madrid

2-0

1990-91

Atlético Madrid

Mallorca

1-0

1989-90

FC Barcelona

Real Madrid

2-0

1988-89

Real Madrid

Valladolid

1-0

1987-88

FC Barcelona

Real Sociedad

1-0

1986-87

Real Sociedad

Atlético Madrid

2-2 (4-2 pen.)

1985-86

Zaragoza

FC Barcelona

1-0

1984-85

Atlético Madrid

Athletic Bilbao

2-1

1983-84

Athletic Bilbao

FC Barcelona

1-0

1982-83

FC Barcelona

Real Madrid

2-1

1981-82

Real Madrid

Sporting de Gijón

2-1

1980-81

FC Barcelona

Sporting de Gijón

3-1

1979-80

Real Madrid

Castilla‡‡

6-1

1978-79

Valencia

Real Madrid

2-0

1977-78

FC Barcelona

Las Palmas

3-1

1976-77

Betis

Athletic Bilbao

2-2 (8-7 pen.)

1975-76

Atlético Madrid

Zaragoza

1-0

1974-75

Real Madrid

Atlético Madrid

0-0 (4-3 pen.)

1973-74

Real Madrid

FC Barcelona

4-0

1972-73

Atlético Bilbao

Castellón

2-0

1971-72

Atlético Madrid

Valencia

2-1

1970-71

FC Barcelona

Valencia

4-3

1969

Atlético Bilbao

Elche

1-0

1969-70

Real Madrid

Valencia

3-1

1967-68

FC Barcelona

Real Madrid

1-0

1966-67

Valencia

Atlético Bilbao

2-1

1965-66

Zaragoza

Atlético Bilbao

2-0

1964-65

Atlético Madrid

Zaragoza

1-0

1963-64

Zaragoza

Atlético Madrid

2-1

1962-63

FC Barcelona

Zaragoza

3-1

1961-62

Real Madrid

Sevilla

2-1

1960-61

Atlético Madrid

Real Madrid

3-2

1959-60

Atlético Madrid

Real Madrid

3-1

1958

Atlético Bilbao

Real Madrid

2-0

1958-59

FC Barcelona

Granada

4-1

1957

FC Barcelona

RCD Espanyol

1-0

1956

Atlético Bilbao

Atlético Madrid

2-1

1955

Atlético Bilbao

Sevilla

1-0

1954

Valencia

FC Barcelona

3-0

1952

FC Barcelona

Valencia

4-2

1952-53

FC Barcelona

Atlético Bilbao

2-1

1951

FC Barcelona

Real Sociedad

3-0

1949-50

Athletic Bilbao

Valladolid

4-1

1948-49

Valencia

Athletic Bilbao

1-0

1947

Real Madrid

RCD Espanyol

2-0

1947-48

Sevilla

Celta de Vigo

4-1

1946

Real Madrid

Valencia

3-1

1944

Atlético Bilbao

Valencia

2-0

1944-45

Atlético Bilbao

Valencia

3-2

1943

Athletic Bilbao

Real Madrid

1-0

1942

FC Barcelona

Atlético Bilbao

4-3

1941

Valencia

RCD Espanyol

3-1

1940

RCD Español

Real Madrid

3-2

1939

Sevilla

Racing de Ferrol

6-2

1936

Madrid

FC Barcelona

2-1

1936-1939

Not played due to Spanish Civil War.

1935

Sevilla

Sabadell

3-0

1934

Madrid

Valencia

2-1

1933

Athletic Bilbao

Real Madrid

2-1

1932

Athletic Bilbao

FC Barcelona

1-0

1931

Athletic Bilbao

Betis

3-1

1930

Athletic Bilbao

Real Madrid

3-2

1928

FC Barcelona

Real Sociedad

3-1

1928-29

RCD Espanyol

Real Madrid

2-1

1927

Real Unión

Arenas

1-0

1926

FC Barcelona

Atlético Madrid

3-2

1925

FC Barcelona

Arenas

2-0

1924

Real Unión

Real Madrid

1-0

1923

Athletic Bilbao

Europa

1-0

1922

FC Barcelona

Real Unión

5-1

1921

Athletic Bilbao

Atlético Madrid

4-1

1920

FC Barcelona

Athletic Bilbao

2-0

1919

Arenas

FC Barcelona

5-2

1918

Real Unión

Madrid FC

2-0

1917

Madrid FC

Arenas

2-1

1916

Athletic Bilbao

Madrid FC

4-0

1915

Athletic Bilbao

RCD Español

5-0

1914

Athletic Bilbao

Espanya

2-1

1913 FEF

Racing de Irún‡

Athletic Bilbao

1-0

1913 UECF

FC Barcelona

Real Sociedad

2-1

1912

FC Barcelona

Gimnástica

2-0

1911

Athletic Bilbao

RCD Espanyol

3-1

1910 FEF

FC Barcelona

Español de Madrid

3-2

1910 UECF

Athletic Bilbao

Real Sociedad

1-0

1909

Real Sociedad

Español de Madrid

3-1

1908

Real Madrid

Real Vigo Sporting

2-1

1907

Real Madrid

Bizcaya

1-0

1906

Real Madrid

Athletic Bilbao

4-1

1905

Real Madrid

Athletic Bilbao

1-0

1904

Athletic Bilbao

—

No Final

1903

Athletic Bilbao

Real Madrid

3-2