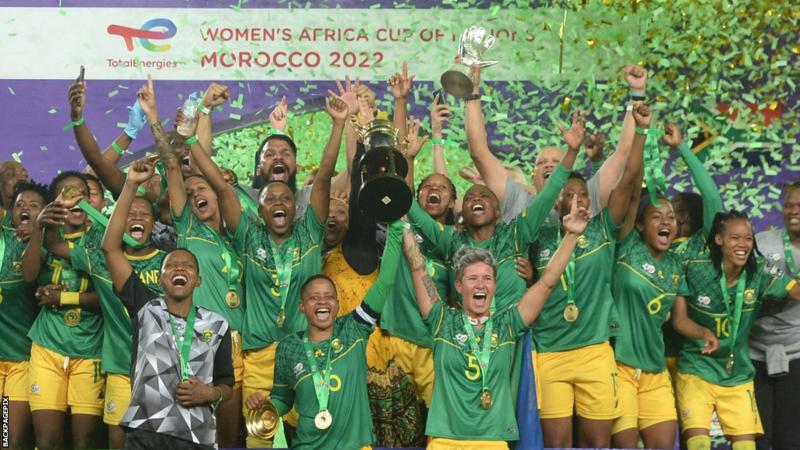 Women's AFCON 2022: South Africa beat Morocco wins first title, Banyana African champions in 4th Finals.
South Africa ended decades of heartbreak and four previous final failures when beating host nation Morocco 2-1 to win the Women's Africa Cup of Nations for the first time.



Banyana Banyana's hero was Hilda Magaia, who scored two quick goals in the middle of the second half to lead South Africa to victory.

Rosella Ayane scored a goal for the Atlas Lionesses with ten minutes remaining, but it was too little, too late for a team competing in its maiden championship game.




In their previous four finals, South Africa has fallen short in 2000, 2008, 2012, and 2018.




Coach Desire Ellis of Banyana Banyana, after trying to win the title as a player 22 years ago and falling short, this was a profoundly satisfying victory.



Ellis' charges entered this competition with a so-called "mentality coach" in an effort to increase positivity after she oversaw another final setback, this one against Nigeria, from the sidelines four years prior.



A rowdy home crowd that had filled the 53,000-seat stadium at least two hours before kickoff and that lit up the Rabat sky with dozens of red and white flares during the game required tremendous composure from South Africa the whole game.





_______
bbc sports