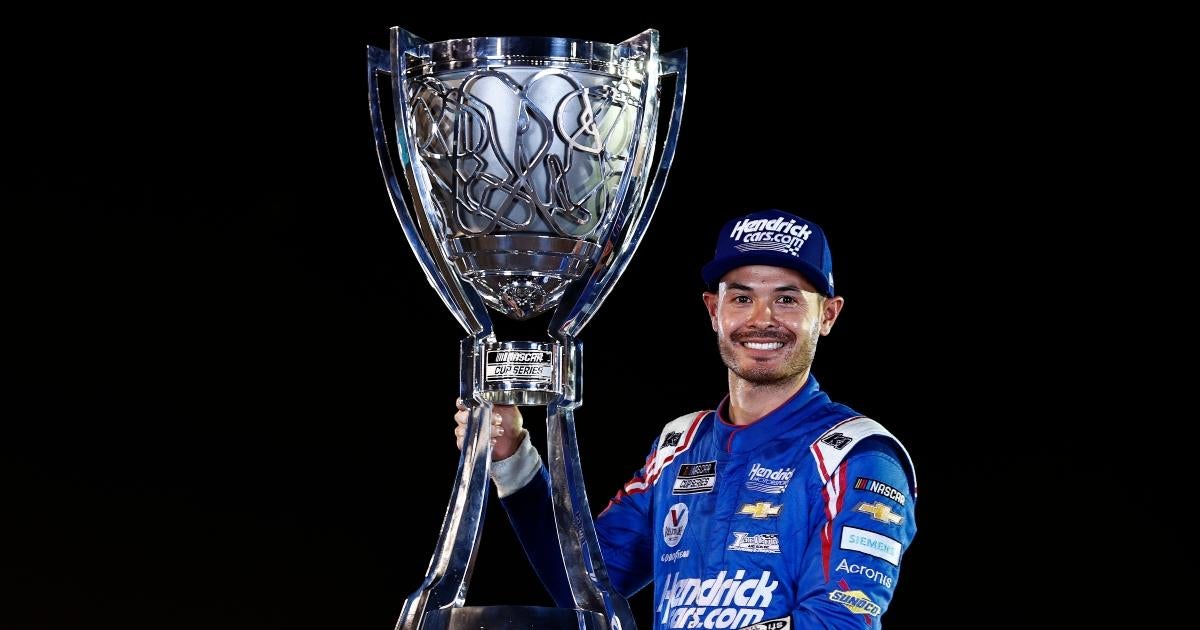 NASCAR Cup Series 2021: Kyle Larson gets his 10th win of the season to win 2021 Cup Series title.






Kyle Larson is a 2021 Cup Series champion.



Larson won his 10th race of 2021 to beat Martin Truex Jr., Denny Hamlin and Chase Elliott for the Cup Series title. Larson got the lead on the race's final caution flag after a quick pit stop moved him from fourth to first among the title contenders.

The championship is Larson's first at the national series level, though he also has a 2012 title in what was then the K&N Pro Series East. He has 12 wins in 108 career Xfinity Series starts, with two victories in 14 races in the Camping World Truck Series.


Larson did the rest, holding off fellow Championship 4 drivers Martin Truex Jr. (finished second), Denny Hamlin (finished third), while the 2020 champion Chase Elliott ( finished fifth) during the final restart on Lap 288 of the 312-lap event at the 1-mile Arizona oval.
But it was the pit stop during the caution flag that won him the title. In a power move off pit road during the final round of stops,
Larson's No. 5 Hendrick Motorsports team used the first pit stall selection to his advantage, gaining the lead over Hamlin after entering pit road in fourth — the last of the Championship 4 drivers.




Kyle Larson wins 2021 NASCAR Cup Series title, Best stats.
1 -- 2021 marked Larson's best season — and one of the best in modern NASCAR history. He's one of just 11 drivers and holds of one of 17 instances where a driver has won 10 or more times in a year at the top level.




2 -- Larson is the third driver in the modern era to win the Cup title in his first season with a new team.




3 -- Larson, who closes the season with 10 wins, becomes the 35th driver to win a title in NASCAR's premier series.

4 -- After winning the Cup title in 2017, Truex has now finished second in points for the third time in the last four seasons - "'18, '19, '21 –
What's Next in 2022 NASCAR Cup series Calendar, schedule dates.?


NEXT-Up: The 2022 NASCAR Cup Series Calendar season begins in earnest Feb. 6 with the exhibition Clash at the Los Angeles Memorial Coliseum. The first points-paying race of the season is the Daytona 500 on Feb. 20.




____