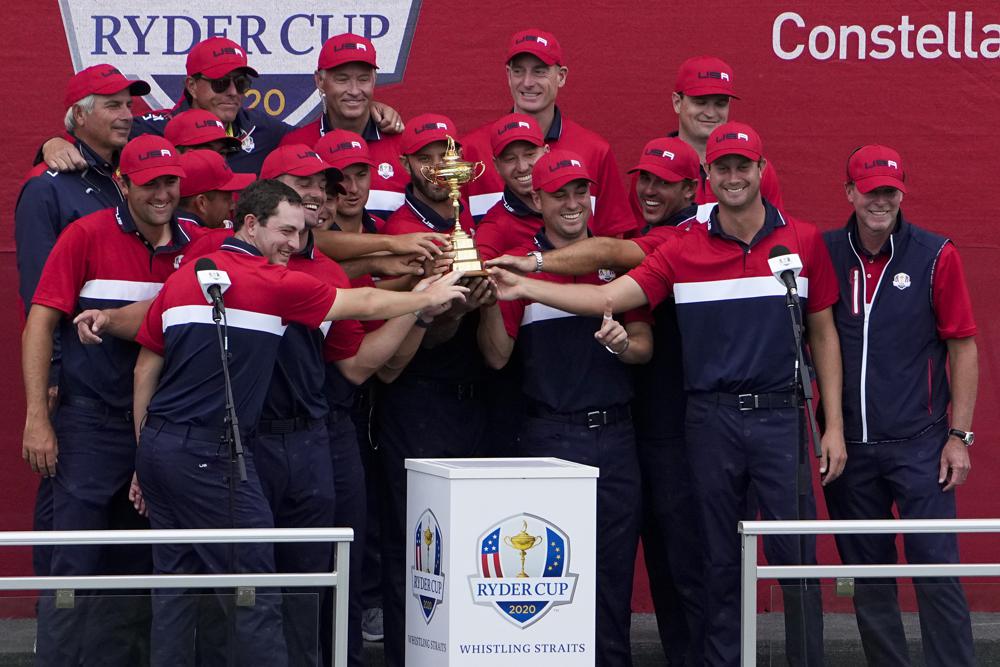 Ryder Cup 2021: US beat Europe to win the trophy again at Whistling Straits, Best Stats, scores, Results.
More than just winning back the Ryder Cup on Sunday, the youngest U.S. team in history handed Europe its worst loss and delivered a strong message about how serious it is about changing the tone of these matches.
Daniel Berger won the final hole in the final match for the final point in a 19-9 victory, breaking by a half-point the record margin since Europe became part of the Ryder Cup in 1979.
The six U.S. Ryder Cup rookies scored more points than all of Europe, combining for a 14-4-3 record. The Americans didn't lose a session for the first time in 44 years.
Dustin Johnson became the first American to go 5-0 since 1979.
Scottie Scheffler took down the No. 1 player in the world with a 4-and-3 victory over Jon Rahm. Scheffler won the opening four holes and birdied five of the first six. He was among three rookies who were unbeaten this week.
Bryson DeChambeau smashed his tee shot on the 373-yard opening hole onto the green and then holed the 40-foot eagle putt to start out his win over Sergio Garcia.
#RyderCup #RyderCup2021
Combined with its 2016 win at Hazeltine, the United States won back-to-back Ryder Cups on home soil for the first time since 1979 and 1983.
Johnson became the first American since Larry Nelson in 1979 to win all five matches.
Garcia set the Ryder Cup record with 25 matches won in his career.
The Americans won consecutive home games for the first time since 1983.
The next step is winning on the road, which the Americans haven't done since 1993.
The Next/Upcoming Ryder Cup goes to Marco Simone in Italy in 2023.....




2021 Ryder Cup scores, results


Day 1: 6-2 U.S. | Day 2: 5-3 U.S. | Day 3: 7-3-2 U.S. | Overall: 19-9 U.S.






Sunday singles results





Schauffele (U.S.) vs. McIlroy (Europe) -- 3&2

Cantlay (U.S.) vs. Lowry (Europe) -- 4&2

Scheffler (U.S.) vs. Rahm (Europe) -- 4&3

DeChambeau (U.S.) vs. Garcia (Europe) -- 3&2

Morikawa (U.S.) vs. Hovland (Europe) -- TIE

Johnson (U.S.) vs. Casey (Europe) -- 1UP

Koepka (U.S.) vs. Wiesberger (Europe) -- 2&1

Finau (U.S.) vs. Poulter (Europe) -- 3&2

Thomas (U.S.) vs. Hatton (Europe) -- 4&3

English (U.S.) vs. Westwood (Europe) -- 1UP

Spieth (U.S.) vs. Fleetwood (Europe) -- TIE

Berger (U.S.) vs. Fitzpatrick (Europe) -- 1UP





___
More AP golf: https://apnews.com/hub/golf and https://twitter.com/AP_Sports