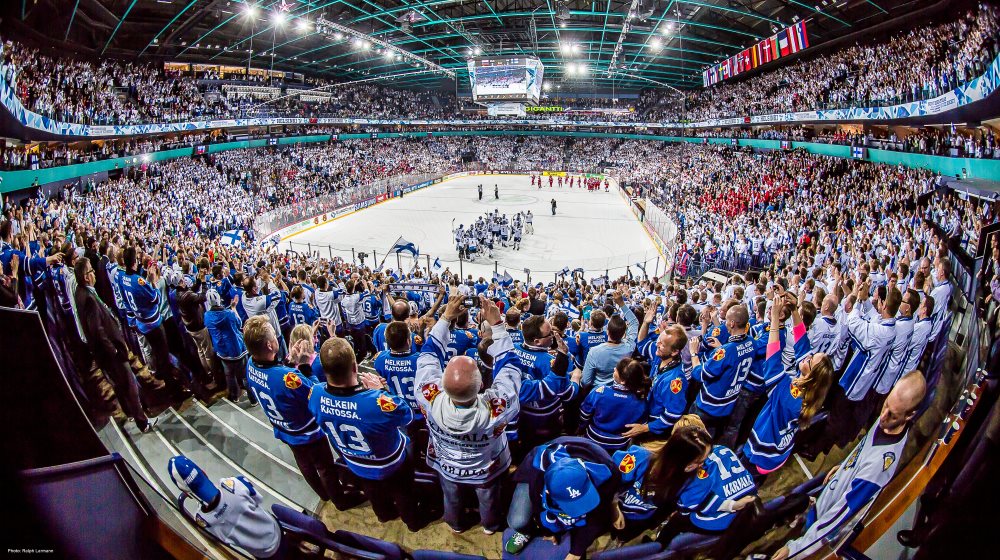 IIHF Ice world hockey championship 2022
schedule dates, Every game start time, venues, how to watch, Live scores, results.
.
The 2022 IIHF World Championship will be hosted by Finland from 13 to 29 May 2022 as the IIHF announced on 19 May 2017. The host cities of the World Championships are Tampere and Helsinki, of which Tampere's brand-new Nokia Arena will serve as the main venue of the games.
Canada beat Finland 3-2, won 2021 hockey world champs 3rd title in six years.
Most recently, the U.S. Men's National Team earned a bronze medal in 2021 tournament and finished with an 8-0-0-2 (W-OTW-OTL-L) record.
In total, the U.S. has earned 13 podium finishes, including one gold medal (1933), four silver medals (1950, 1939, 1934, 1931) and eight bronze medals (2021, 2018, 2015, 2013, 2004, 1996, 1952, 1949).
In 2021, Great Britain recorded a memorable 4-3 win over Belarus to finish above them in the group – as well as going down to a 3-2 overtime defeat against Denmark..
.


2022 IIHF World Championship 2022 Groups, teams.



Group A: Helsinki Ice Hall, Finland, Capacity: 8,200

Group B: Tampere, Nokia Arena, Finland, Capacity: 13,300


Group A: Canada, Germany, Switzerland, Slovakia, Denmark, Kazakhstan, Italy, France.

Group B: Finland, USA, Czech Republic, Sweden, Latvia, Norway, Great Britain, Austria




How to watch games from 2022 IIHF Ice Hockey Men's World Championship, USA, UK & around the world.




In USA you can watch all games live in NHL Network, while in Great Britain you can watch Every game is being shown live telecast on FreeSports.

FreeSports will also televise a selection of other group matches, as well as two of the quarter-final matches, the two semi-finals and the bronze and gold medal matches.
FreeSports is available, free-to-air, via Freeview Channel 65, Sky channel 422, Virgin 553, TalkTalk 64 and BT TV channel 64.
IIHF World Championship 2022: Full Schedule, dates, start times, Live sores, results






Central European Time zone ( GMT+1 )


DATE - TIME - SCORE - Teams



May 13 15:20 France : Slovakia

May 13 15:20 USA : Latvia

May 13 19:20 Germany : Canada

May 13 19:20 Finland : Norway



May 14 11:20 Denmark : Kazakhstan

May 14 11:20 Sweden : Austria

May 14 15:20 Switzerland : Italy

May 14 15:20 Czech Republic : Great Britain

May 14 19:20 Slovakia : Germany

May 14 19:20 Latvia : Finland



May 15 11:20 Italy : Canada

May 15 11:20 Norway : Great Britain

May 15 15:20 France : Kazakhstan

May 15 15:20 Austria : USA

May 15 19:20 Denmark : Switzerland

May 15 19:20 Czech Republic : Sweden



May 16 15:20 Slovakia : Canada

May 16 15:20 Latvia : Norway

May 16 19:20 France : Germany

May 16 19:20 Finland : USA



May 17 15:20 Italy : Denmark

May 17 15:20 Czech Republic : Austria

May 17 19:20 Switzerland : Kazakhstan

May 17 19:20 Sweden : Great Britain



May 18 15:20 France : Italy

May 18 15:20 Norway : Austria

May 18 19:20 Switzerland : Slovakia

May 18 19:20 Finland : Sweden



May 19 15:20 Germany : Denmark

May 19 15:20 Great Britain : USA

May 19 19:20 Canada : Kazakhstan

May 19 19:20 Czech Republic : Latvia



May 20 15:20 Germany : Italy

May 20 15:20 Great Britain : Finland

May 20 19:20 Kazakhstan : Slovakia

May 20 19:20 Latvia : Austria



May 21 11:20 Denmark : France

May 21 11:20 USA : Sweden

May 21 15:20 Canada : Switzerland

May 21 15:20 Austria : Finland

May 21 19:20 Italy : Slovakia

May 21 19:20 Norway : Czech Republic



May 22 15:20 Kazakhstan : Germany

May 22 15:20 Great Britain : Latvia

May 22 19:20 Switzerland : France

May 22 19:20 Sweden : Norway



May 23 15:20 Kazakhstan : Italy

May 23 15:20 USA : Czech Republic

May 23 19:20 Canada : Denmark

May 23 19:20 Austria : Great Britain



May 24 11:20 Germany : Switzerland

May 24 11:20 Sweden : Latvia

May 24 15:20 Slovakia : Denmark

May 24 15:20 USA : Norway

May 24 19:20 Canada : France

May 24 19:20 Finland vs Czech Republic.





Thurs., May 26 Quarterfinal 1 4:20 p.m./9:20 a.m. (Local/ET) Helsinki Ice Hall, NHL Network



Quarterfinal 2 4:20 p.m./9:20 a.m. (Local/ET) Nokia Arena Tampere, NHL Network



Quarterfinal 3 8:20 p.m./1:20 p.m. (Local/ET) Ice Hall Helsinki, NHL Network



Quarterfinal 4 8:20 p.m./1:20 p.m. Nokia Arena Tampere, NHL Network



Sat., May 28 Semifinal 1 2:20 p.m./7:20 a.m. Nokia Arena Tampere, NHL Network



Semifinal 2 6:20 p.m./11:20 a.m. Nokia Arena Tampere, NHL Network



Sun., May 29 Bronze Medal Game 3:20 p.m. / 8:20 a.m. Nokia Arena Tampere, NHL Network



Gold Medal Game 8:20 p.m. / 1:20 p.m. Nokia Arena Tampere, Finland NHL Network





Follow to More..... Sportshistori.com
________________
Courtesy to IIHF.com