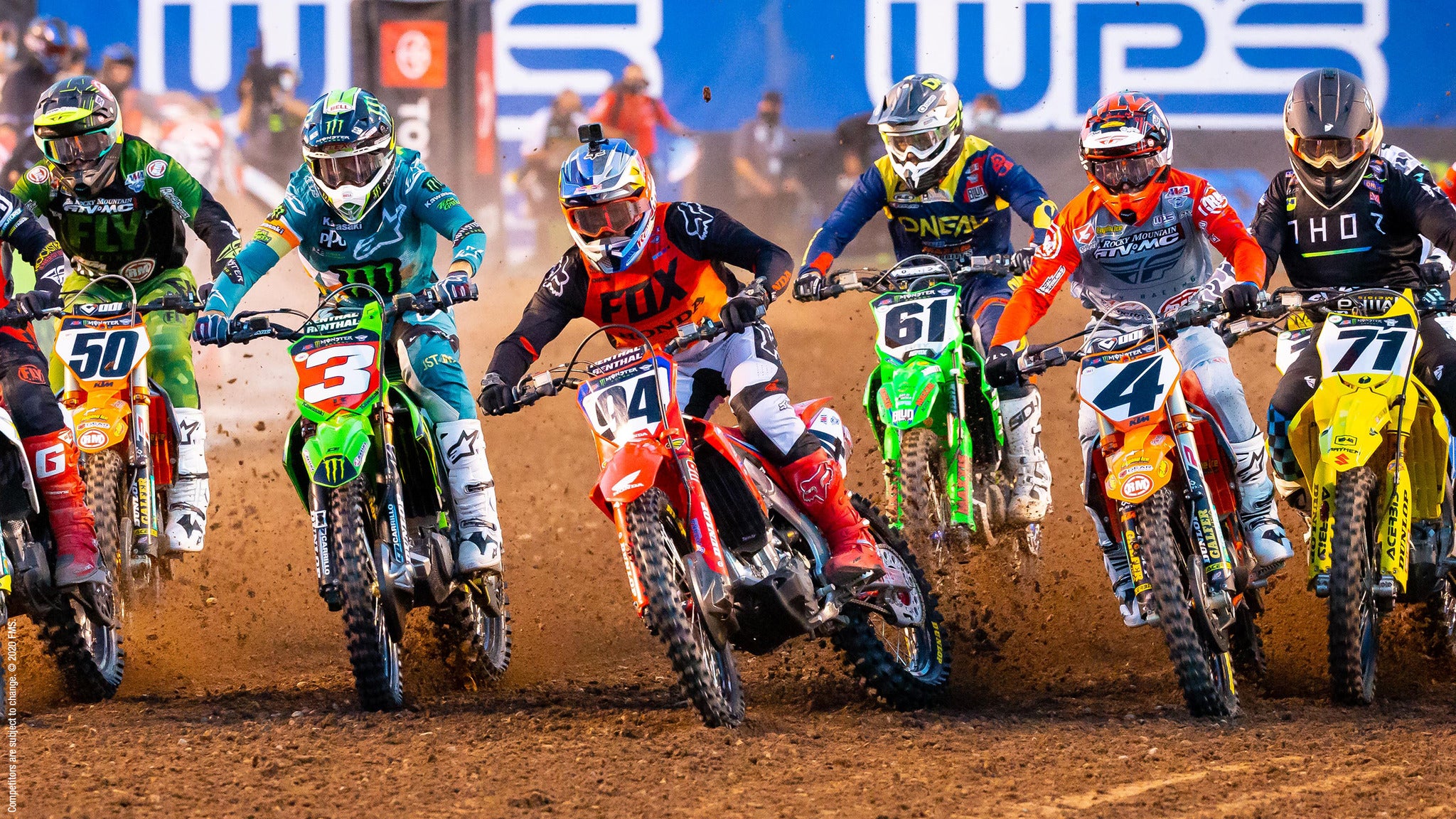 Monster Energy Supercross AMA 2021: 17 races schedule dates, TV times, live stream.
The 2021 Monster Energy Supercross schedule will comprises 17 races with four three-race stints, two doubleheaders, and one standalone event. Three races scheduled for Glendale, Arizona, will be moved to Orlando, Florida, and Salt Lake City, Utah.
The Monster Energy AMA Supercross 2021 season will kick off in Houston at NRG Stadium for a three consecutives-races stint beginning on Saturday, Jan. 16, followed by Tuesday, Jan. 19 and Saturday, Jan. 23rd,
The season Opner will be will be shown live on NBCSN, starting at 6 p.m. ET. A one-hour Supercross 2021 preview special will air Jan. 9 at 3:30 p.m. ET on NBC with appearances from title contenders Eli Tomac, Ken Roczen, Cooper Webb, Justin Barcia and Zach Osborne.
The dates of Arlington, Texas, remain the same for the AT&T Stadium races on March 13, 16 and 20.
Three new events will take place at Atlanta Motor Speedway in Hampton, Georgia on 10, 13 and 17 April. It will be the first time that the speedway will conduct a Supercross race.
The series will close its season at Rice-Eccles Stadium in Salt Lake City on 24 April and 1 May. Both 17 rounds will have regular race formats.
The Triple Crown formats will be kept on hold until the 2022 season.
The season 2021 will feature much of the 250 West and East races in a sequence of events. There will be nine races in both the West and East regional grades.
Monster Energy AMA Supercross 2021: Full Schedule dates, Locations, TV times, Live stream info, Results.
| | | | |
| --- | --- | --- | --- |
| Date | Event | Coverage# | Time (ET) |
| Sat., Jan. 16 | Houston | NBCSN | 6 p.m. |
| Tues., Jan. 19 | Houston | NBCSN* | 10:30 p.m. |
| Sat., Jan. 23 | Houston | NBCSN | 8 p.m. |
| Sat., Jan. 30 | Indianapolis | NBCSN | 8 p.m. |
| Sun., Jan. 31 | Indianapolis | NBC^ | 5 p.m. |
| Tues., Feb. 2 | Indianapolis | NBCSN* | 11 p.m. |
| Sat., Feb. 6 | Indianapolis | NBCSN | 8 p.m. |
| Sat., Feb. 13 | Orlando | NBCSN | 7:30 p.m. |
| Sat., Feb. 20 | Orlando | NBCSN | 7 p.m. |
| Sat., March 6 | Daytona | NBCSN | 7 p.m. |
| Sat., March 13 | Arlington | NBCSN | 7 p.m. |
| Tues., March 16 | Arlington | NBCSN* | 10:30 p.m. |
| Sat., March 20 | Arlington | NBCSN* | 10:30 p.m. |
| Sat., April 10 | Atlanta | NBC | 3 p.m. |
| Tues., April 13 | Atlanta | NBCSN* | 10 p.m. |
| Sat., April 17 | Atlanta | NBCSN* | 8:30 p.m. |
| Sat., April 24 | Salt Lake City | NBCSN | 7 p.m. |
| Sat., May 1 | Salt Lake City | NBCSN | 10 p.m. |
| Sun., May 2 | Salt Lake City | NBC^ | 1:30 p.m. |
*Same-day delay
^ Taped coverage