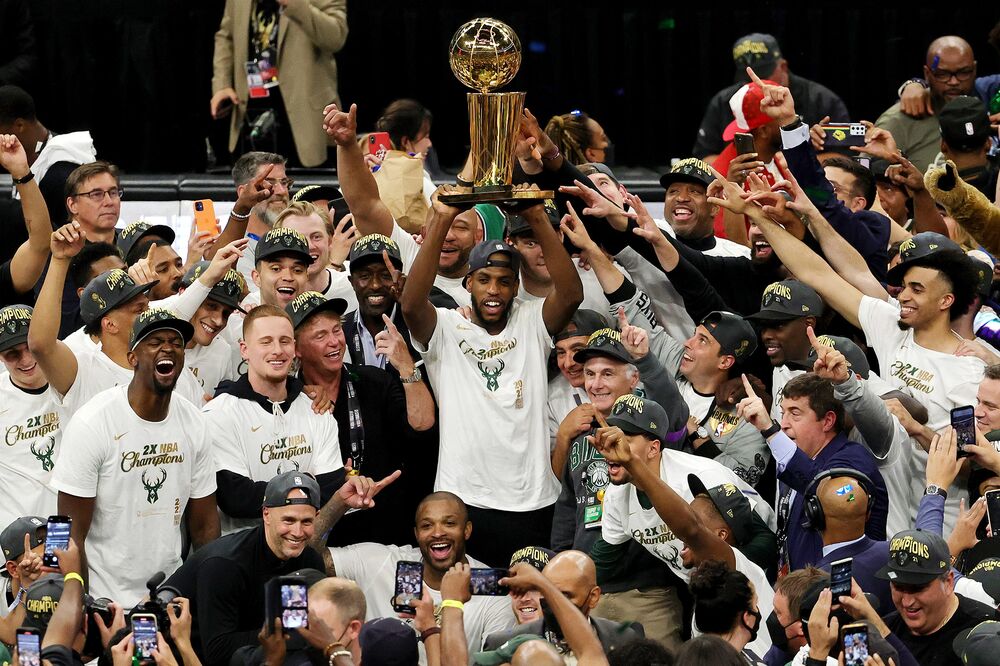 All-Time NBA Finals Champions List: Championship Winners by year since 1947.
The
Boston Celtics
and Los Angeles have won the historic over half of all titles of NBA Championship leagues are 34 out of 74.
The Bucks are new NBA champion 2021.

The Giannis Antetokounmpo heroic scores 50 points
Milwaukee Bucks pulled out a tough 105-98 victory over the Phoenix Suns to win their first title in 50 years
....
The Bucks fell behind 2-0 in the series, but they never gave up. Instead, they dug deep and won four straight games to lay claim to the Larry O'Brien Trophy.
The Milwaukee
Bucks
forward
Giannis Antetokounmpo
won the 2021 NBA Finals most valuable player of the season with average 35.2 points
Previously NBA Finals 2018 champs are Los Angeles Lakers who defeats the Miami Heat in 4 -2 series.
The brief history of NBA Finals, stats.
The National Basketball Association (NBA) is a championship series & have been played " Best of 7 " between winners of Eastern conference & Western conference, it is commonly division before 1970.
It is Firstly from 1946 to 1949 known as Basketball Association of America (BBA).
The trophy was originally known as NBA Finals trophy, but it was renamed as Walter. A. Brown in 1964.
Prior to 1977, the trophy was given to Champion of the season for a Year, but after 1977 the Trophy was given permanently & New one was made for next year.
Again 1984 the trophy was changed in the honor the NBA Commissioner (1975-1983 ) Larry O'Brien Championship Trophy.
The BBA Finals trophy inaugurated in 1946-47 season Win Philadelphia Warriors 4-1 Chicago Stage.
The Eastern conference marks ahead of the Western conference winning titles ( 39-34 ).
First NBA Finals 1984 won by Boston Celtics 4-3 Los Angeles Lakers.
In 2019, The Canadian side Toronto Raptors defeat defending champions the Golden State Warriors 114-110 to win their first ever NBA title in history.
Overall NBA Finals trophy Most Winning titles teams are Los Angles Lakers and Boston Celtics with 17 titles & the most in NBA League History, And on 2nd is also two teams are Golden State Warriors, Chicago Bulls who won the Finals title 6 times each.....
NBA Finals Winners List since 1947-2022, Past series results.
Here is the complete list of NBA Finals Champions, All-time Championships Winners from 1947-2022.
2023 - Team 1 def. Team
2022 - Golden State Warriors def. Boston Celtics.
2021 - Milwaukee Bucks def. Phoenix Suns 4-2
2020 -
Los Angeles Lakers def.

Miami Heat, 4 - 2.
2019 - Toronto Raptors def. Golden State Warriors 4 - 2
2018 - Golden State Warriors def. Cleveland Cavaliers 4-0
2017 - Golden State Warriors def. Cleveland Cavaliers 4-1
2016 - Cleveland Cavaliers def. Golden State Warriors 4-3
2015 - Golden State Warriors def. Cleveland Cavaliers 4-2
2014 - San Antonio Spurs def. Miami Heat 4-1
2013 - Miami Heat def. San Antonio Spurs 4-3
2012 - Miami Heat def. Oklahoma City Thunder 4-1
2011 - Dallas Mavericks def. Miami Heat 4-2
2010 - Los Angeles Lakers def. Boston Celtics 4-3
2009 - Los Angeles Lakers def. Orlando Magic 4-1
2008 - Boston Celtics def. Los Angeles Lakers 4-2
2007 - San Antonio Spurs def. Cleveland Cavaliers 4-0
2006 - Miami Heat def. Dallas Mavericks 4-2
2005 - San Antonio Spurs def. Detroit Pistons 4-3
2004 - Detroit Pistons def. Los Angeles Lakers 4-1
2003 - San Antonio Spurs def. New Jersey Nets 4-2
2002 - Los Angeles Lakers def. New Jersey Nets 4-0
2001 - Los Angeles Lakers def. Philadelphia 76ers 4-1
2000 - Los Angeles Lakers def. Indiana Pacers 4-2
1999 - San Antonio Spurs def. New York Knicks 4-1
1998 - Chicago Bulls def. Utah Jazz 4-2
1997 - Chicago Bulls def. Utah Jazz 4-2
1996 - Chicago Bulls def. Seattle SuperSonics 4-2
1995 - Houston Rockets def. Orlando Magic 4-0
1994 - Houston Rockets def. New York Knicks 4-3
1993 - Chicago Bulls def. Phoenix Suns 4-2
1992 - Chicago Bulls def. Portland Trail Blazers 4-2
1991 - Chicago Bulls def. Los Angeles Lakers 4-1
1990 - Detroit Pistons def. Portland Trail Blazers 4-1
1989 - Detroit Pistons def. Los Angeles Lakers 4-0
1988 - Los Angeles Lakers def. Detroit Pistons 4-3
1987 - Los Angeles Lakers def. Boston Celtics 4-2
1986 - Boston Celtics def. Houston Rockets 4-2
1985 - Los Angeles Lakers def. Boston Celtics 4-2
1984 - Boston Celtics def. Los Angeles Lakers 4-3
1983 - Philadelphia 76ers def. Los Angeles Lakers 4-0
1982 - Los Angeles Lakers def. Philadelphia 76ers 4-2
1981 - Boston Celtics def. Houston Rockets 4-2
1980 - Los Angeles Lakers def. Philadelphia 76ers 4-2
1979 - Seattle SuperSonics def. Washington Bullets 4-1
1978 - Washington Bullets def. Seattle SuperSonics 4-3
1977 - Portland Trail Blazers def. Philadelphia 76ers 4-2
1976 - Boston Celtics def. Phoenix Suns 4-2
1975 - Golden State Warriors def. Washington Bullets 4-0
1974 - Boston Celtics def. Milwaukee Bucks 4-3
1973 - New York Knicks def. Los Angeles Lakers 4-1
1972 - Los Angeles Lakers def. New York Knicks 4-1
1971 - Milwaukee Bucks def. Baltimore Bullets 4-0
1970 - New York Knicks def. Los Angeles Lakers 4-3
1969 - Boston Celtics def. Los Angeles Lakers 4-3
1968 - Boston Celtics def. Los Angeles Lakers 4-2
1967 - Philadelphia 76ers def. San Francisco Warriors 4-2
1966 - Boston Celtics def. Los Angeles Lakers 4-3
1965 - Boston Celtics def. Los Angeles Lakers 4-1
1964 - Boston Celtics def. San Francisco Warriors 4-1
1963 - Boston Celtics def. Los Angeles Lakers 4-2
1962 - Boston Celtics def. Los Angeles Lakers 4-3
1961 - Boston Celtics def. St Louis Hawks 4-1
1960 - Boston Celtics def. St Louis Hawks 4-3
1959 - Boston Celtics def. Minneapolis Lakers 4-0
1958 - St Louis Hawks def. Boston Celtics 4-2
1957 - Boston Celtics def. St Louis Hawks 4-3
1956 - Philadelphia Warriors def. Fort Wayne Pistons 4-1
1955 - Syracuse Nationals def. Fort Wayne Pistons 4-3
1954 - Minneapolis Lakers def. Syracuse Nationals 4-3
1953 - Minneapolis Lakers def. New York Knicks 4-1
1952 - Minneapolis Lakers def. New York Knicks 4-3
1951 - Rochester Royals def. New York Knicks 4-3
1950 - Minneapolis Lakers Syracuse Nationals 4-2
1949 - Minneapolis Lakers def. Washington Capitals 4-2
1948 - Baltimore Bullets def. Philadelphia Warriors 4-2
1947 - Philadelphia Warriors def. Chicago Stags 4-1