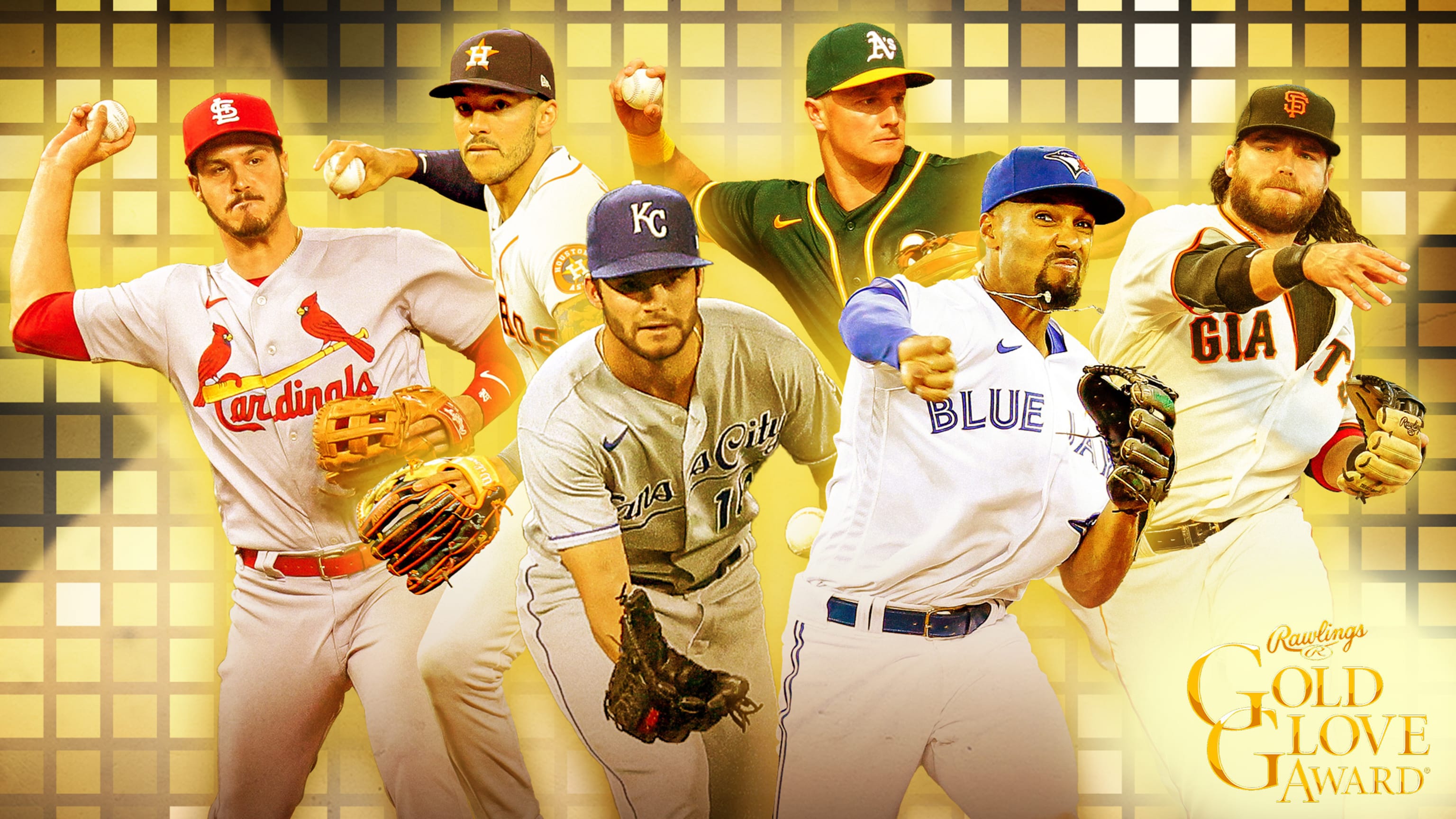 MLB Gold Glove Awards 2021: Cardinals make history with five winners in list.
November is awards season for Major League Baseball, and on Sunday night things got kicked off as the league revealed the winners for the 2021 Gold Glove Awards.
It's a history-making year when it comes to Gold Glove Awards, because for the first time, a single team has five winners in the same season.
Notably here, the Cardinals became the fourth team in the past 45 years to have three infielders win the Gold Glove in the same season while Nolan Arenado won his ninth.
Loop in the two Cardinals outfield wins and they become the first team in MLB history to win five Gold Gloves in a season.
MLB Gold Glove Awards 2021: Full List of AL , NL Winners.


Below are the 2021 winners (with number of career Gold Gloves in parentheses) and the other finalists.





American League winners.



Pitcher: Dallas Keuchel (5th)

Other finalists: José Berríos (Blue Jays), Zack Greinke (Astros)


Catcher: Sean Murphy, Athletics (1st)

Other finalists: Martín Maldonado (Astros), Salvador Perez (Royals)


First Base: Yuli Gurriel, Astros (1st)

Other finalists: Matt Olson (Athletics), Jared Walsh (Angels)


Second Base: Marcus Semien, Blue Jays (1st)

Other finalists: David Fletcher (Angels), Whit Merrifield (Royals), Marcus Semien (Blue Jays)


Shortstop: Carlos Correa, Astros (1st)

Other finalists: J.P. Crawford (Mariners), Andrelton Simmons (Twins)


Third Base: Matt Chapman, Athletics (3rd)

Other finalists: José Ramírez (Guardians), Joey Wendle (Rays)


Left Field: Andrew Benintendi, Royals (1st)

Other finalists: Randy Arozarena (Rays), Lourdes Gurriel Jr. (Blue Jays)


Center Field: Michael A. Taylor, Royals (1st)

Other finalists: Kevin Kiermaier (Rays), Myles Straw (Guardians)


Right Field: Joey Gallo (2nd)

Other finalists: Hunter Renfroe (Red Sox), Kyle Tucker (Astros)



National League winners.



Pitcher: Max Fried, Braves (2nd)

Other finalists: Zach Davies (Cubs), Zack Wheeler (Phillies)




Catcher: Jacob Stallings, Pirates (1st)



Other finalists: Yadier Molina (Cardinals), J.T. Realmuto (Phillies)


First Base: Paul Goldschmidt, Cardinals (4th)

Other finalists: Freddie Freeman (Braves), Max Muncy (Dodgers)


Second Base: Tommy Edman, Cardinals (1st)

Other finalists: Ozzie Albies (Braves), Kolten Wong (Brewers)


Shortstop: Brandon Crawford (4th)

Other finalists: Francisco Lindor (Mets), Kevin Newman (Pirates)


Third Base: Nolan Arenado, Cardinals (9th)

Other finalists: Manny Machado (Padres), Ryan McMahon (Rockies)


Left Field: Tyler O'Neill, Cardinals (2nd)

Other finalists: David Peralta (Diamondbacks), AJ Pollock (Dodgers)


Center Field: Harrison Bader, Cardinals (1st)

Other finalists: Bryan Reynolds (Pirates), Jackie Bradley Jr. (Brewers)


Right Field: Adam Duvall, Braves (1st)