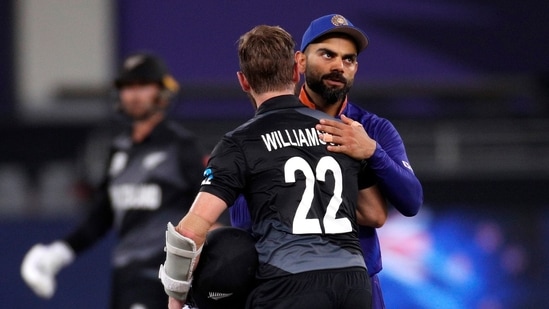 How Twitter Media & Cricketers React of India 2nd straight Defeat by New Zealand.
New Zealand inflicted a crushing eight-wicket defeat on India at the cricket T20 World Cup on Sunday and put the tournament favorite on the brink of elimination.
India's much-trumpeted batters flopped for the second time — after a 10-wicket defeat to Pakistan — reaching only 110-7 after New Zealand chose to bowl.
Daryl Mitchell (49) and captain Kane Williamson (33 not out) eased New Zealand to 111-2 in 14.3 overs in a lopsided Group 2 game.

In one word, tell us: can India still make the semis? 🤔#INDvNZ | #T20WorldCup pic.twitter.com/TKTomSg3Fo

— ESPNcricinfo (@ESPNcricinfo) October 31, 2021
Pakistan fans: we've all had some fun, but, let's be kind to our neighbours. It's been been tough couple of games for them & while it would be easy to kick our rivals when they're down, let's be classy and show some support. Bura waqt sab pe aata hai. Love > Hate. #T20WorldCup pic.twitter.com/Q1yEwlvZwD

— Aatif Nawaz (@AatifNawaz) October 31, 2021
India should take a leaf out of all other countries … Allow their players to play in other leagues around the World to gain experience … #India #T20WorldCup

— Michael Vaughan (@MichaelVaughan) October 31, 2021
Humanly IMPOSSIBLE to play so much cricket…throughout the year…in bio-bubbles…and stay at the top of your game Blame BCCI for mismanagement #IndiaVsNewZealand

— Manak Gupta (@manakgupta) October 31, 2021
India are playing 2010 Cricket .. The game has moved on .. #T20WorldCup

— Michael Vaughan (@MichaelVaughan) October 31, 2021
This defeat should hurt Team India. Tentative with the bat, their shot selection was questionable. New Zealand bowled superbly, but India made their task easier. With their net run rate also taking a beating, a semifinal spot looks a distant dream #INDvNZ #T20WorldCup

— VVS Laxman (@VVSLaxman281) October 31, 2021
Very disappointing from India. NZ were amazing. India's body language wasn't great, poor shot selection & like few times in the past, New Zealand have virtually ensured we won't make it to the next stage. This one will hurt India & time for some serious introspection #IndvsNZ

— Virender Sehwag (@virendersehwag) October 31, 2021
Virat Kohli is facing criticism but it's the entire team and the coaches that have failed and not just one man.
It turned out to be a scary Halloween for Indian fans. #INDvsNZ #T20WORLDCUP

— Mohammed Azharuddin (@azharflicks) October 31, 2021
India is out of world cup, Now sir kohli in his free time can teach Indians how should we celebrate diwali.. #IndvsNZ

— Sumit Kadel (@SumitkadeI) October 31, 2021
Well done NZ you were too good today. And for team India, they need to get together and perform miracles. Time is running out. #indvsnz

— Irfan Pathan (@IrfanPathan) October 31, 2021
The big-game failures are chronic now. Please don't sweep them under the carpet. Or start attacking the messenger. There has to be a problem somewhere which has been left unattended for so many years #IndvsNZ

— Vikrant Gupta (@vikrantgupta73) October 31, 2021
Very disappointing loss. It was the manner in which it all happened. Batting was scratchy. Think the pitch was more lively than the Indians expected. request to all, We watch n we support Indian 🇮🇳 team irrespective of the results, Please be responsible. #INDvsNZ #T20WorldCup

— Amol Muzumdar (@amolmuzumdar11) October 31, 2021
It's not looking good for India.. but we all want India to stay in the tournament. This early exit of India won't be good for the event 😔 #INDvsNZ #ICCT20WorldCup

— Azhar Ali (@AzharAli_) October 31, 2021
Some good captaincy and India can still win from here.#INDvsNZ

— Kapil Mishra (@KapilMishra_IND) October 31, 2021
The whole of India right now! 👇🏽#IndVsNZ pic.twitter.com/OqhHbmWJp9

— Prashant Kumar (@scribe_prashant) October 31, 2021
So irritating to watch our cricket players playing their roles so well in the ad films but playing so poorly on the field. Seems all of them want to make their careers as actors not as cricketers. #T20WorldCup #IndiaVsNewZealand

— Sudhir Chaudhary (@sudhirchaudhary) October 31, 2021
A final pt: retiring Capt, future capt, departing coach, part time mentor: too many cooks, messy meal. Never seen a @imVkohli led team look less enthu on field. Almost as if weight of expectations leads to fear of failure. Back to drawing board. New energy needed. #T20WorldCup

— Rajdeep Sardesai (@sardesairajdeep) October 31, 2021
In any big tournament you can't change the playing 11 in just one game and get desired results. Players need stability And I'm surprised this is happening with some big names taking decisions. #ind

— Irfan Pathan (@IrfanPathan) October 31, 2021
#IND have twice been rocked by early wickets but even then their underlying numbers make for very grim reading. No team has a lower attacking shot percentage than #IND & only #IRE, #PNG & #NED have a worse Timing Rating (a measure of quality of shot contact). #T20WorldCup

— Freddie Wilde (@fwildecricket) October 31, 2021
2019 - Lost
2021 (WTC) - Lost
2021 (T20 WC) - Lost#INDvNZ #T20WorldCup #TeamIndia #Cricket pic.twitter.com/aQG8KnxrfN

— Wisden India (@WisdenIndia) October 31, 2021
What goes up…comes down…that's the nature's law. But then when you are down you need to resurrect and work hard to rise up again. Time for resurrection. #teamindia

— Manish Mundra (@ManMundra) October 31, 2021