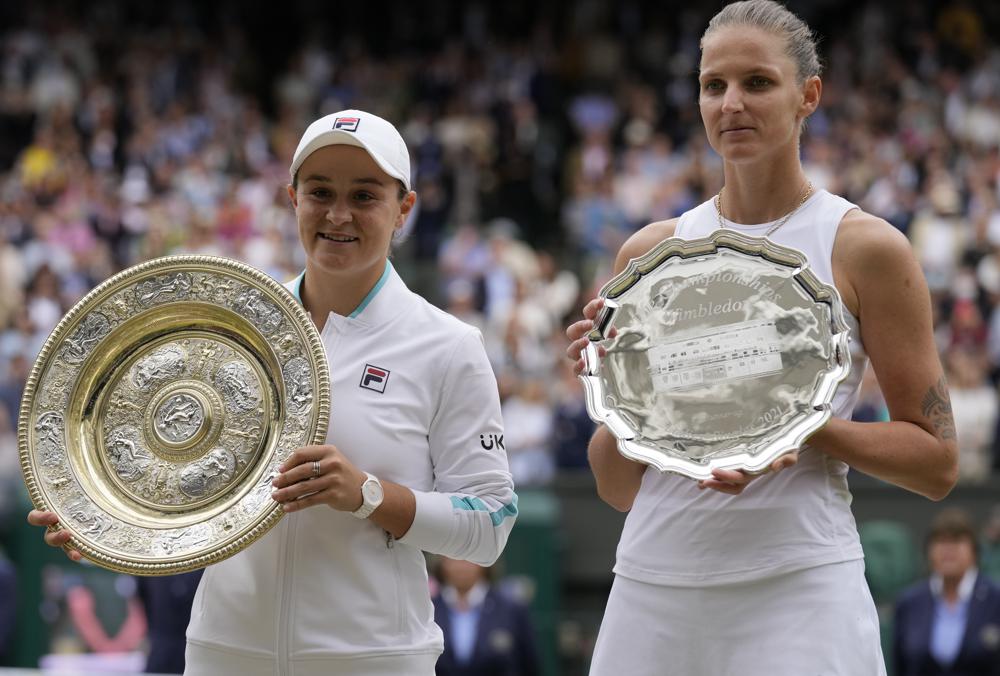 Wimbledon 2021: Ashleigh Barty beats Karolina Pliskova to win women's single title.
Ashleigh Barty won her maiden Wimbledon title as she beat Karolina Pliskova in a nervy final to become the first Australian women's champion for 41 years.
Barty won the first 14 points to take early charge in a 6-3 6-7 (4-7) 6-3 win on the 50th anniversary of idol Evonne Goolagong Cawley's maiden win here.
Barty took an early break in the third, which proved decisive as she added the Wimbledon trophy to the French Open title she won in 2019.
Aussie's Barty wins 2nd Major GrandSlam title, Czech Pliskova awaits continues for maiden Slam title, best Stats.
1 - Both Ashleigh Barty and Karolina Pliskova were making their debut in the final of the grass-court Grand Slam at the All England Club - the first time happened since 1977.

2 - Ash Barty is the first Australian woman to win Wimbledon since Evonne Goolagong in 1980.

3 - For the second time, Czech Pliskova had fallen in major finals; she also was the runner-up at the 2016 U.S. Open.

4 - Its the first Wimbledon women's final to go three sets since 2012, Barty went up 3-0 .

5 - Barty won 22 of 31 points that lasted nine strokes or more.
Ashleigh Barty wins 2021 Wimbledon title & Pay tributes to Goolagong Cawley on 50th anniversary.
"This is incredible," said Barty, who dropped to her knees in tears.

"It took me a long time to verbalise, to dare to dream it and say it."

After climbing up into the stands to hug her team, she told the Centre Court crowd: "I didn't sleep a lot last night. I was thinking of all the what-ifs. I hope I made Evonne proud.

"I have to thank every single person in this stadium. You've made my dream so special."
Czech Karolina Pliskova waits too long after 2nd Major Slam final lost.
"I want to say Ash played an incredible tournament. I fought to make it difficult for her but she played very well so congrats to her and her team.

"I want to thank all my team. All the success goes to them, without them I would not be here, and my family of course. No matter which trophy I have we have had an incredible three weeks here."

"I never cry, never, and now...
Thanks to bbc sports & AP news