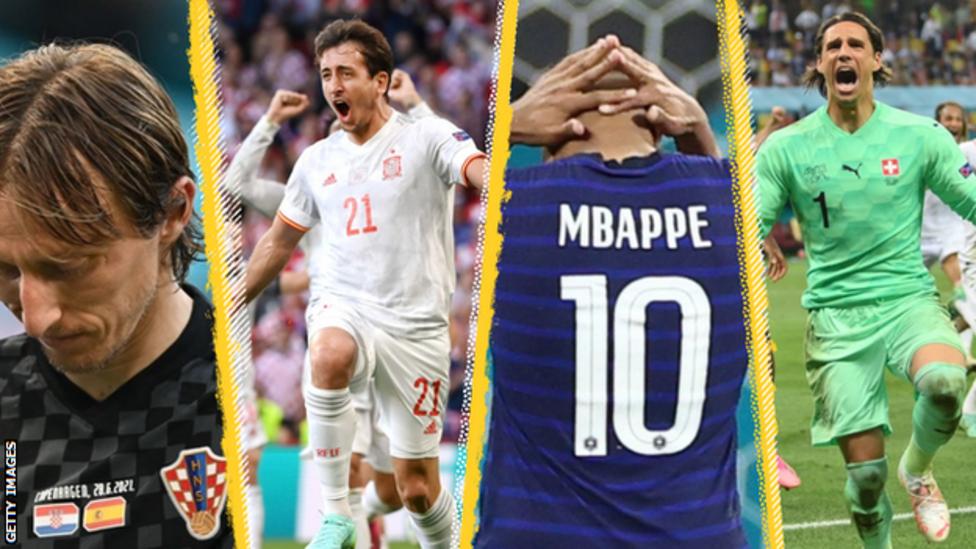 Mbappe & France's fall from top to Switzerland on Penalties 5-4, reach Euro 202 Quarters first time in 54 years.
This summer belongs to Swiss Yann Sommer.
The Switzerland goalkeeper, who left in the middle of the European Championship's group stage to be with his wife for the birth of their second daughter, made the biggest save of his life against one of the best players in the world.
That gave the Swiss a 5-4 penalty shootout victory over World Cup champion France on Monday and a spot in the quarterfinals of a major soccer tournament for the first time in 67 years. The match had finished 3-3.
Sommer dived to his right to save the final penalty by Kylian Mbappé, the young France forward who became a superstar at the last World Cup by scoring in the final.
Switzerland Historic Truimph: Stat of the day.
The Swiss had now reached the quarterfinals at a major tournament since the Last time reached in a Major, when they hosted the World Cup in 1954.




Swiss teams three consecutive times knocked out in the Last 16 Round.




They were knocked out by Poland after losing a penalty shootout 5-4 at Euro 2016.
Morata scores as Spain beats Croatia 5-3 in extra time, reached Quarter-finals of Euro2020.
COPENHAGEN, Denmark (AP) — Spain first gifted Croatia a bizarre own-goal, then threw away a late 3-1 lead. Alvaro Morata made sure it didn't matter in the end.
Morata and Mikel Oyarzabal scored in extra time Monday to give Spain a 5-3 win over Croatia and a place in the European Championship quarterfinals after a wildly entertaining see-saw match at Parken Stadium.
Spanish side in Quarters Euro2020, Stat of the day.
It was the second-highest scoring game in the history of the European Championship, trailing only Yugoslavia's 5-4 win over France in the opening game of the inaugural tournament in 1960.
Euro2020 Quarter-finals fixtures, match Schedule, Switzerland vs Spain:
The Switzerland will next play Spain in the quarterfinals on Friday in St. Petersburg.
___
More AP soccer: https://apnews.com/hub/soccer