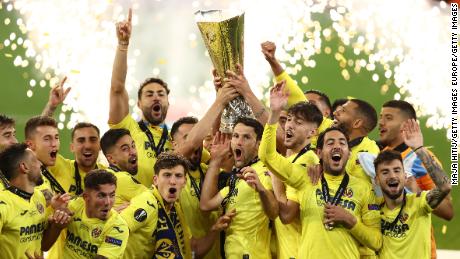 Villarreal defeats ManUnited in dramatic show as De Gea penalty saved to win 2020-21 Europa League title.
Villarreal won its first major European trophy after defeating Manchester United in a marathon penalty shootout in the UEFA Europa League final.
With the game poised at 1-1 after extra-time, United goalkeeper David de Gea missed the decisive penalty after all previous 21 penalties had been scored, including by De Gea's opposite number, Gerónimo Rulli.
The dramatic conclusion in Gdansk, Poland, also handed Villarreal coach Unai Emery a fourth Europa League trophy after he won three consecutive titles with Sevilla between 2014 and 2016.
21 Penalties by different players in a single Match, Villarreal's Unai Emery a 4th Europa League title 2021, best stats, records.
1 -- Villarreal are the first side to win in their first appearance in a major European final since Shakhtar Donetsk in the 2008-09 Uefa Cup.




2 -- Manchester United have lost six of their last seven penalty shootouts in all competitions, only winning against Rochdale in the League Cup in September 2019 in that time.




3 -- Villarreal boss Unai Emery is the first manager to win either the Uefa Cup or Europa League four times, surpassing Giovanni Trapattoni.




4 -- Villarreal became the 13th side in Europe's big five leagues to hit the 100-goal milestone in all competitions this season (100).




5 -- Three shots on target produced in the game (one for Villarreal and two for Manchester United) was the lowest tally in a Europa League final since Porto v Sporting Braga in 2011 also saw just three.




6 -- Gerard Moreno netted his 82nd goal in all competitions for Villarreal, joining Giuseppe Rossi as the club's all-time top-scorer.




7 -- Moreno became the first player to score 30+ goals for Villarreal in a single season in all competitions since Giuseppe Rossi in 2010-11 (32).




8 --Manchester United striker Edinson Cavani became just the third player aged 34 or above to score in a major European final for an English club, after Gary McAllister (36) for Liverpool in the Uefa Cup final versus Alaves in 2000-01 and Didier Drogba (34) for Chelsea in the Champions League final versus Bayern Munich in 2011-12




9 -- Manchester United's Edinson Cavani has scored 16 goals in his last 11 starts in the Europa League.




10 -- Manchester United's Mason Greenwood made his 52nd appearance this season in all competitions, the joint-most of any teenager with a team from Europe's big five leagues along with Barcelona's Pedri.
Follow to More.......