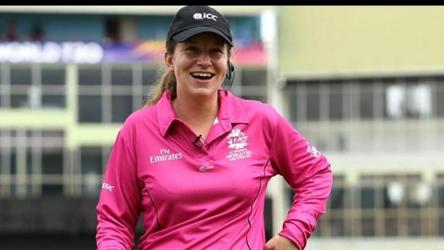 Claire Polosak became the first female umpire to officiate in men's match in 144 years Test cricket history.
SYDNEY - Australian Claire Polosak became the first woman to officiate in a men's match in the 144-year history of Test cricket.
According to media reports, the 32-year-old Polosak won the award as the fourth alternate umpire in the match between Australia and India at the Sydney Cricket Grand.
Claire Polosak officiated in the World Cricket League Division Two final between Namibia and Oman in April last year.
Earlier in December 2018, in a match between the Adelaide Strikers of the Big Bash and the Melbourne Stars, Claire Polosak and Elvis Sheridan became the first women to umpire together in a match.
Claire Polosak became the first female umpire in Australia's men's domestic competition during the 2017 JLT Cup.
In the fields of cricket, Claire Polosek and Kathy Cross of New Zealand made their World Twenty20 debut umpires for the first time in 2016 when the World Cup was being played in India.
Claire Polosak from the Australian state of New South Wales was on the umpiring panel for the Women's World Cup in February and March last year.
According to the report, Claire Polosak is also a member of Cricket Australia's Supplementary Umpiring Panel and the ICC's Development Panel.
Claire, 32, began her umpiring career in 2015 and she was assigned to the Women's Twenty20 Qualifying Tournament in Thailand, where she officiated in eight matches, including the final.
She has the experience of being the third umpire in 17 ODIs and three matches, 33 women's T20s and 3rd umpires in 5 matches.
In the ongoing four-match series between the Australian and Indian cricket teams, the umpiring panel has been selected from Australia due to the travel ban in the global COVID-19 pandemic.